Jason Isbell And The 400 Unit


The Nashville Sound
Southeastern Records [2017]

Steve Earle & The Dukes


So You Wannabe An Outlaw
Warner Bros. Records [2017]


Fire Note Says: Labels fail Outlaw country musicians, but Jason Isbell & Steve Earle deliver great records in the tradition of great roots rockers and country players.
Album Review: For the record, there has long been a vein of outlaw music running through what has often been labeled 'country music,' represented by the untamed music spirits of Waylon Jennings, Johnny Cash, Jerry Jeff Walker and late great songwriters/mentors Guy Cark and Townes Van Zandt. Just like punk, grunge, and alternative rock were a rejection and response to polished commercial rock & roll and pop, folk and country artists who refused to play by the rules on commercial country radio, often called the 'Nashville sound,' in favor of authentic, genre-blurring roots music that was willing to color outside the lines as long as the emotions were real and human, the music true and good.
You hear that spirit in some of the recordings of the original Hank Williams, Chuck Berry, Buddy Holly and early Elvis Presley, and it lives on in original outlaws like Willie Nelson, Kris Kristofferson, and Joe Ely, and finds expression in rock bands like Son Volt, Old Crow Medicine Show, and country artists like Buddy Miller, Jim Lauderdale, and of course Sturgill Simpson and Chris Stapleton. You can add to that list veteran Steve Earle, whose newest is appropriately titled So You Wannabe An Outlaw, and current alt/country poster boy, Jason Isbell, whose new one is titled with a touch of irony, The Nashville Sound.
Isbell first gained national attention as a member of Drive-By Truckers, where he played with them from 2001 to '07, with a few songs appearing on their albums Decoration Day, The Dirty South, and A Blessing and a Curse. In 2015, Isbell's fifth solo album, Something More Than Free, was his biggest commercial success and he picked up Grammy awards that year for Best Americana Album and Best American Roots Song for "24 Rooms." While recent outings from Stapleton and Simpson have certainly upped the ante, this latest from Isbell, and his band The 400 Unit, is a classic in its own right, rooted in phenomenal songwriting and spirited performances.
The Nashville Sound starts out with an acoustic ballad "The Last of My Kind," which feels a bit autobiographical as Isbell describes how he doesn't fit in the urban world surrounded by people "clapping on the one and three," and how the world described by is Mama back in Arkansas is nothing like the modern world today. And then in a pattern that persists throughout the disc, that band kicks with a loud rocker, "Cumberland Gap," about the changing culture and generations pass in mining towns when "no one wants the coal."
Next up is a gentle song about returning to "Tupelo" after a failed marriage, followed by a rocker about racial privilege and guilt, titled "White Man's World." You read that right, a country rock band writing a song about White privilege at the expense of Native Americans and African slaves: "Got the bones of the red man under my feet. The highway runs through the burial grounds and past the oceans of cotton."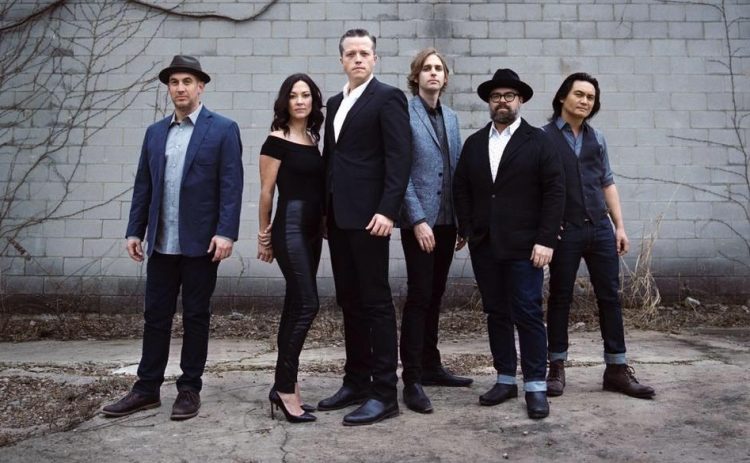 So, Isbell surprises with his culturally aware commentary and ability to criticize dehumanizing forces and his own place in this complex and challenging world, not the expected beer commercial/girl in tight jeans fodder country radio continues to force feed the masses. Isbell also addresses that modern malady in the cathartic rocker, "Anxiety," and also delivers two of the most unique and literate love songs that come to mind. "If We Were Vampires" mourns the fact that he and his love may only get "forty years together" before one of them dies, that explains his need to hold on to her hand and give her "every second I can find, and hope that it isn't me who's left behind." "Molotov" acknowledges that he's forsaken his foolish teenage promise to himself to burn out rather than fade away, acknowledging that it's not so bad to ride through this world at a more sensible pace when you're accompanied by "a brown-eyed girl who rode with me through this mean old world."
On the whole, when Isbell let's The 400 Unit loose they rock hard and well, more intense than most everything on Something More Than Free, living up to their name, taken from the psych ward of the hospital near Muscles Shoals where Isbell grew up in Alabama. That location, near to the world famous recording studio, suggests the soulfulness, the authentic lyrical intensity and musical depth that flows through this album's musical endeavors. With his wife Amanda Shires on fiddle, Drivin' N Cryin' guitarist Sadler Vaden, and Derry DeBorja (formerly of Son Volt) on keyboards, it's worth mentioning that they offer elegant and satisfying contributions to even on the quieter material, playing with artful restraint and melodic clarity.
The album closes with two songs that serve as benedictions. There's the pop rock anthem of "Hope the High Road," which explains why he chooses to take a positive tack even though he knows folk are "uninspired and likely mad as hell." He sings, "last year was a son of a bitch for nearly everyone we know. But I ain't fighting with you down in the ditch. I'll meet you up here on the road…" which "leads you home to a world you want to live in."
"Something to Love," a pop country song with a lovely fiddle track, is a word of blessing to his daughter even though he doesn't "quite recognize the world you'll call home." He wishes that she "find something to love. Something to do when you feel like giving up. A song to sing or a tale to tell. Something to love, it'll serve you well."
A generation older than Isbell, Steve Earle has been doing this whole genre-busting, musical outlaw thing, making all this mistakes in public for over 20 years longer. They both have gone through rehab to get sober, but Earle had already achieved star status with his 1986 album Guitar Town, before his fall from grace and an attempt to resurrect his life and then his career, which led to a return to acoustic folk on Train a Comin' (1995), and country rock with I Feel Alright ('96). In the intervening decades he's experimented with rockier technology on one of his most left leaning political albums, Jerusalem (2002), which included the controversial "John Walker's Blues" and anti-war title track, and The Revolution Starts Now (2004, the middle of the Bush administration). He collaborated with the Del McCoury Band on a bluegrass album, The Mountain ('99), recorded at tribute album to his mentor and songwriting hero, Townes Van Zandt (2009), recorded a series of fine albums with this band The Dukes, and a collaboration last year with Shawn Colvin.
In the meantime, along with his tempestuous romantic life (he's been married 7 times, and is recently divorced), Earle was a political radio commentator on Air America for three years, has published a novel which shared a title with one of his albums, I'll Never Get Out of This World Alive, He produced an album for Joan Baez, Say After Tomorrow (2008), and played repeat appearance rolls in two HBO series, "The Wire," where he played a drug counselor, and "Treme," a talented street musician and songwriter in New Orleans. Earle's unique role in music history made him a great candidate to be interviewed for Dave Grohl's HBO films that accompanied the recording of Sonic Highways, when the tour of music towns took them to Austin, TX, and Nashville. All of which is to make the point that Earle has reached a place in his life and career where he has nothing to prove, he doesn't have to touch any stylistic or ideological bases at this point, he's relatively free to make the music that pleases him, and that's exactly the impression you get from Outlaw.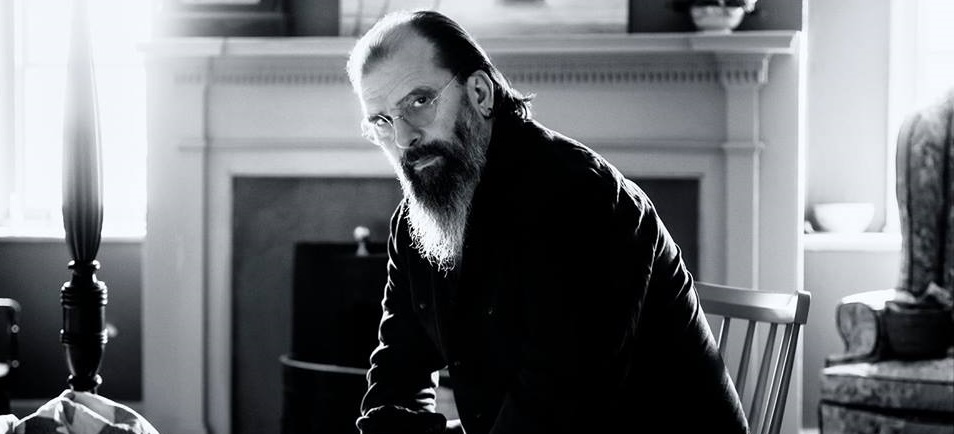 Fresh on Earle's mind, obviously is his recent break up with his wife, Allison Moorer (interviewed by Guardian.com, he noted that she "left me for a younger, skinnier, less talented singer") as he serves up several break-up songs, a tried and true country music staple. For "This Is How It Ends," he wrote and sings in duet with Miranda Lambert who has her own public break up tale to tell. He also serves up "Looking For a Woman (that won't do my like you)" and, just in case you missed the fact, "You Broke My Heart." But in the quiet, and genuinely beautiful ballad, "The Girl Up On the Mountain" suggests that even though his love life hasn't quite worked out as planned, he's still a romantic at heart.
On the disc's opening title track, "So You Wannabe An Outlaw," Earle is joined by Willie Nelson, an outlaw in his own right, who takes a verse and sings along on the chorus, where they recognize that "you can never go home," when you're "singing those outlaw blues." "Goodbye Michaelangelo," the albums closing track, another very beautiful ballad with just Earle on acoustic guitar, celebrates a country outlaw music hero and mentor to many, Guy Clark, who died last year.
A pause to reflect on mortality can lead an artist to morbid self-reflection, but in "Fixin' to Die," Earle delivers an angry rockin' rant stating that he guesses that means he's "going to hell." But it's not clear if his ardor is raised by that fact, or if he's pissed at a dominant religious culture that promotes that idea. The storyteller in Earle shows up elsewhere, "If Mama Coulda Seen Me" is a rocker that describes a prison inmates' disappointments, "News From Colorado" describes a family's black sheep who continues to let the people in his life down, and "Walkin' in L.A." is about comical song about being down & out in the affluent Hollywood scene set to a country swing rhythm propelled by a sturdy bass line and fiddle.
Musically, sounds as if he's more than happy to recall the country roots of his earliest, playing fast and loose, with vocals that feel spontaneous, without a lot of emotional of technical distance. "Sunset Highway" feels like the kind of fun, country rock hit that could have come from the Flying Burrito Bros., Poco, or even The Eagles, except Earle gives an important role to Eleanor Whitmore's fiddle playing, and while there's plenty of guitar, what solos you hear tend more toward Ricky Ray Jackson's pedal steel than to the rock style guitar playing you'd expect from someone out to establish their rock cred.
So, ultimately it doesn't fit in any obvious box, this outlaw country music, whether it's called 'country rock,' 'Americana' or "alt country" it's not an easy fit in any of the hard and fast categories. What seems to most matter here is artistic authenticity, songs that connect to the real stuff of human existence, and playing that honors the best in the roots music of America, whether it country, rock & roll, rhythm & blues, rockabilly, cow-punk or some combination of the above, it's good music when you hear it. Like Justice Stewart said about pornography in that obscenity case that reached the Supreme Court, "I know it when I see it," and this is good music… you'll know it when you hear it.
Key Tracks from Jason Isbell: "If We Were Vampires" / "White Man's World" / "Hope the High Road"
Key Tracks from Steve Earle: "So You Wannabe An Outlaw" / "This Is How It Ends" / "Looking For A Woman"
Artists With Similar Fire: Chris Stapleton / Sturgill Simpson / Son Volt / Drive-By Truckers / The Bottle Rockets / Ray Davies & The Jayhawks
Jason Isbell Website
Jason Isbell Facebook
Southeastern Records
Steve Earle Website
Steve Earle Facebook
Warner Bros. Records
– Reviewed by Brian Q. Newcomb
Brian Quincy Newcomb has found work as rock critic and music journalist since the early 80's, contributing over the years to Billboard Magazine, Paste, The Riverfront Times, and The St. Louis Post-Dispatch.
Latest posts by Brian Q. Newcomb (see all)
Please follow and like us: