Mavis Staples


Livin' On A High Note
ANTI- [2016]


Fire Note Says: Livin' On A High Note continues to extend Staples legacy.
Album Review: At 76 years of age, Mavis Staples could be resting on her laurels, touring at her leisure performing the classic music written by her father Pops Staples that were pop hits for her with The Staple Singers; the Rock & Roll Hall of Fame inductee could hit the late night circuit telling stories about recording on The Band's classic "The Last Waltz," hanging out with Bob Dylan, and recording two solo albums with Prince producing.
But quite to the contrary, Staples has released four albums in the last decade, making this one of her most productive periods in a long and storied career. In '07, she was produced by guitarist extraordinaire Ry Cooder on We'll Never Turn Back, then she made two albums in Chicago with producer Jeff Tweedy, You Are Not Alone (2010), and One True Vine (2013).
For this outing, Staples has turned to M. Ward (She & Him, with Zooey Deschanel) to produce, and turned to some of the more interesting songwriters currently working. The result is some of the most up-tempo and joyful material to enter her repertoire since she was singing songs written primarily by her father, while wedding her Gospel and R&B music roots and her social justice interests.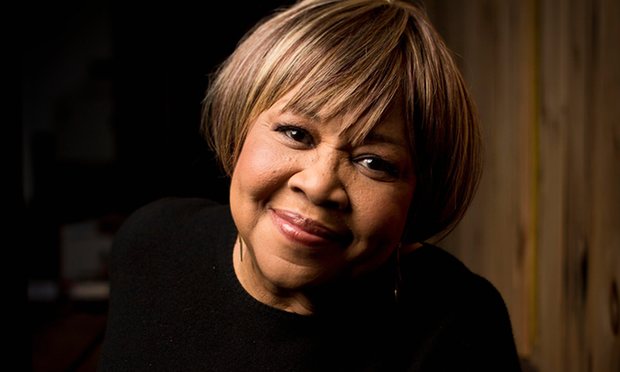 "Action," written by the members of Tune-Yards, melds her early involvement with the civil rights movement with the more poignant current work of the Black Lives Matter activists. Ben Harper's "Love & Trust" recalls the era when he was working closely with the Blind Boys of Alabama, minimal guitars and drum accompaniment building to include a little Hammond organ, the song centers on Staples lead and a chorus of background singers. "Tomorrow," on the other hand, written by Aloe Blacc and Jon Batiste (Colbert Show), has a full horn arrangement, giving the song a New Orleans jazz feel.
From the set-opener, Benjamin Booker's "Take Us Back," built on a slower funky rock riff to the acoustic guitar meditation on the words of Rev. Dr. Martin Luther King, Jr. by M. Ward, Mavis Staples sounds like she's right at home. Working mostly with the players from her touring band, she and Ward are able to take many of these songs from different songwriters and bring them together in a solid artistic whole.
"High Note" by Valerie June, "One Love" by Son Little, and "History Now" by Neko Case add further high spots to a recording that is pretty solid throughout, the latter's one short-coming is that it's too brief, ending too abruptly at just over two minutes. Mavis Staples has brought a soulful honesty and rich vocal integrity political relevance to the American roots music scene for over 50 years, and with Livin' On A High Note she continues to extend her legacy. For more on her storied career also make sure to check out her new HBO Documentary as well!
Key Tracks: "Take Us Back" / "Love and Trust" / "Tomorrow"
Artists With Similar Fire: Oleta Adams / Shirley Caesar / Sister Rosetta Tharpe
Mavis Staples Website
Mavis Staples Facebook
ANTI-
– Reviewed by Brian Q. Newcomb
Brian Quincy Newcomb has found work as rock critic and music journalist since the early 80's, contributing over the years to Billboard Magazine, Paste, The Riverfront Times, and The St. Louis Post-Dispatch.
Latest posts by Brian Q. Newcomb (see all)
Please follow and like us: