Scout Niblett


It's Up To Emma
Drag City Records [2013]



Fire Note Says: Emma Louise Niblett's decade-long run of excellence continues.
Album Review: When most critics talk of Scout Niblett they inevitably bring up Cat Power and PJ Harvey. But it is her work with Bonnie "Prince" Billy and especially the late, great Jason Molina that most inform her music (after all, her first two albums were on Secretly Canadian.) On her latest effort, It's Up To Emma, the spirit of Courtney Love and Hole runs through these nine songs in an odd way. Niblett's music has always been angry and dark as only someone who regularly sites Pretty On The Inside as a major influence, but this is the infamous break-up record and you know what that means! A bad break-up also is always good fodder for pop songs and the Portland via the UK artist is uniquely qualified to make the most of it. It is also the first album since her 2001 debut, Sweet Heart Fever, that Steve Albini is not twiddling the knobs. And Emma is all the better for it.
Sparse and spartan are two adjectives often used when describing Niblett's weird brand of minimalistic indie blues. It is her contralto and guitar that form the core of every song. There are strings here and there, some drums appear on certain tracks but her voice and the content of her lyrics are always key. Take lead track, "Gun," for instance. It's a quaint little song about murder. She sings "Maybe you'll be holding her hand/Or watching her shitty band" with so much contempt that the vowel sound in "band" gets extended and contorted. She is playing the part of psycho ex-girlfriend just a little too accurately for comfort. "In a crowd someday/You won't see it coming anyway." Is she going after him or the new girl in his life? It's left vague and it's pretty creepy. One thing Niblett does well is knowing exactly when the drums need to kick in for maximum effect and, sure enough, the solitary snare hits which enter about halfway into the song are on point. She finds other ways to build dramatic tension on "Can't Fool Me Now." With timpani and well-placed swells of strings, the song's classic Scout Niblett – full of empty spaces yet intensely personal. "Second Chance Dreams" is another one of those songs where the drums enter at just the right time. She over-annunciates consonants here and there which adds to the sense that a psychotic break is imminent.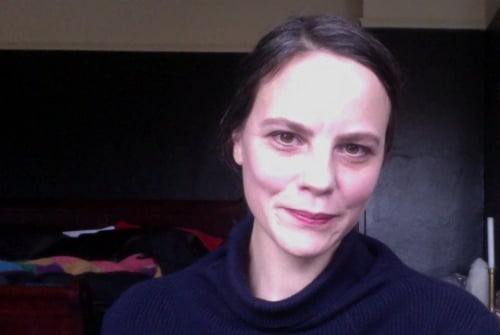 The biggest surprise on the album is the inclusion of the cover of the TLC hit, "No Scrubs." In theory it shouldn't work but, given her dead-serious delivery, it's a set highlight. There's a version of her doing Janet Jackson's "Nasty" out there and that would have been cool too. Maybe two covers on the same album would have been too much but it's fantastic as well and I suggest you check it out! The final track (which is also the album's longest…go figure) entitled "What Can I Do?" is the perfect closer. It got a slow, gradual build-up, it's got e-bow, it's got Niblett screaming like Courtney Love – what's not to love? The only thing really holding It's Up To Emma back is the creeping sameness of the songs and, in particular, the guitar sound. This is not a huge problem as I doubt many come to her records looking for eclecticism but it does make this (and all her albums, I dare say) a bit of a slog. That said, this is another fine, fine entry in the Scout Niblett discography. It's just a shame more people won't hear it.
Key Tracks: "Gun", Second Chance Dreams", "What Can I Do?"
Artists With Similar Fire: Cat Power / PJ Harvey / Jana Hunter
Scout Niblett Website
Scout Niblett Facebook
Drag City Records
-Reviewed by Scot Lade
Scot is a classically trained guitar player who has played in such legendary Florida bands as Disorderly Conduct, Foul Existense (sic) and, most recently, wedgepiece. He currently resides in Bellefontaine, Ohio.
Latest posts by Scot Lade (see all)
Please follow and like us: