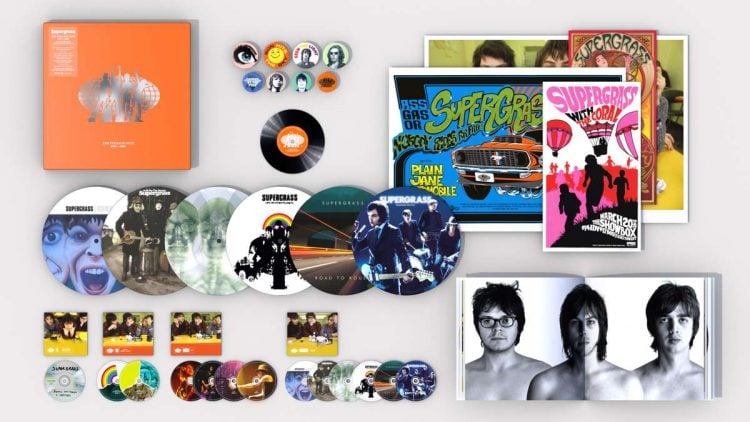 Supergrass have announced they are reforming for a theatre tour of the UK, Europe and North America in 2020. The thirteen date tour will kick off in Paris on 4th February, before the UK leg culminates with a huge show at London's Alexandra Palace on 6th March 2020. Tickets go on sale Friday 13th September from 9:00 am.
A career spanning Best-of package 'Supergrass: The Strange Ones 1994 – 2008' has also been announced plus this comprehensive box set, marking the 25th anniversary of I Should Coco, is a celebration of Supergrass' incredible career and is released on BMG on January 24th.
The deluxe box contains their 6 original albums on picture disc LP and CD, bonus CDs of unreleased live material, B-sides, remixes, rarities, studio out-takes, demos, acoustic versions, oddities, new mixes, a deluxe book, posters and button badges. It also features over 6 hours of previously unreleased audio material. The boxset contains 5 previously unreleased tracks which includes a cover of The Police's 'Next To You." You can read the full details on the box below and pre-order HERE.
All 6 studio albums on heavyweight vinyl picture discs:
I Should Coco, In It For The Money, Supergrass, Life On Other Planets, Road To Rouen, Diamond Hoo Ha
13 CDs:
1 x 6CD set – All 6 original studio albums in new digipack
1 x 4CD set – Live: Over 5 hours of previously unreleased performances spanning their entire career. Includes radio sessions, full production live shows and acoustic sets
1 x 2CD set – Remixes, B-sides, non-album singles, acoustic versions and other rarities. Includes tracks previously unreleased digitally
1 x 1CD – Demos, out-takes and oddities. All previously unreleased
7" single: 'Caught By The Fuzz' / 'Richard III' 2020 Remixes
Deluxe book:
52 pages, containing unseen band photos and essays on the original albums by Everett True, Charles Shaar Murray, Sylvia Patterson, Andrew Male, Adam Sweeting, Paul Moody. Band quotes from interviews with Matt Everitt
Full colour posters x 4:
3 reproduced original tour posters and one band photo poster
Colour button badges x 8:
From the 'Supergrass Is 10' sleeve artwork – 4 x 2", 4 x 1.5"
Online Music Magazine: Independent Music Reviews, Vinyl Spotlights, Music News, Videos, 7-inch record features + more!
Latest posts by Fire Note Staff (see all)
Please follow and like us: