Tedeschi Trucks Band w/ Shovels & Rope and Blackberry Smoke; Wheels of Soul Tour 2019; Rose Music Center, Huber Heights, OH – Saturday, July 20, 2019
There are some pieces of music that are so iconic, so memorable, so potent and influential, that it only takes a few seconds of sound to transport you to another place and time. Often you recognize the song and artist in its opening measures, whether it's a single guitar riff or a few well-placed chords, but it carries in just that one musical moment, the feelings and creativity of an entire album, or an artist's catalog, or even the good feelings of a whole genre or era in time. One such moment is the opening slide guitar riff of "Statesboro Blues," the Blind Willie McTell song, as played by the late Duane Allman in the opening track of The Allman Brothers Band's "Live at Fillmore East." Saturday night, Derek Trucks tapped all that energy and good will when he played that opening riff after he led his band back to the stage following their fabulous 75-minute headlining set, and the packed Rose music venue responded with a robust cheer as we rose in unison to our feet.
Of course, Trucks and the Tedeschi Trucks Band pretty much own the Allman legacy at this point, with a nod to Warren Haynes and his band, Government Mule, now that Gregg has died. Trucks, whose uncle was Butch Trucks, one of the band's long-time drummers, sat in from time to time with the ABB when he was still a teenager, before joining the band in 1999 for a decade. And, while his virtuoso slide guitar playing is one of the key ingredients in the success of the TTB, it would be a mistake to downplay the powerful singing voice of Susan Tedeschi and the compelling energy she brings to the band's music and live shows.
In fact, the full strengths of the 12-member Tedeschi Trucks Band were on display from the get-go, when the band took the stage and launched into "Laugh About It," a song that had an Allman's vibe, if you can imagine the Allmans' with a great horn section. "Do I Look Worried" followed, with a more robust R&B feel, again with the horns accenting Tedeschi's strong lead vocal. Here, and often in the band's set, Trucks displayed a technique that went back to his days with Allman's, where the song seems to stop or quiets to a hush as he begins to play his solo, then building his solo to a higher level of intensity taking advantage of the increased dynamics. It's an effective, crowd-pleasing move, that worked consistently whenever employed.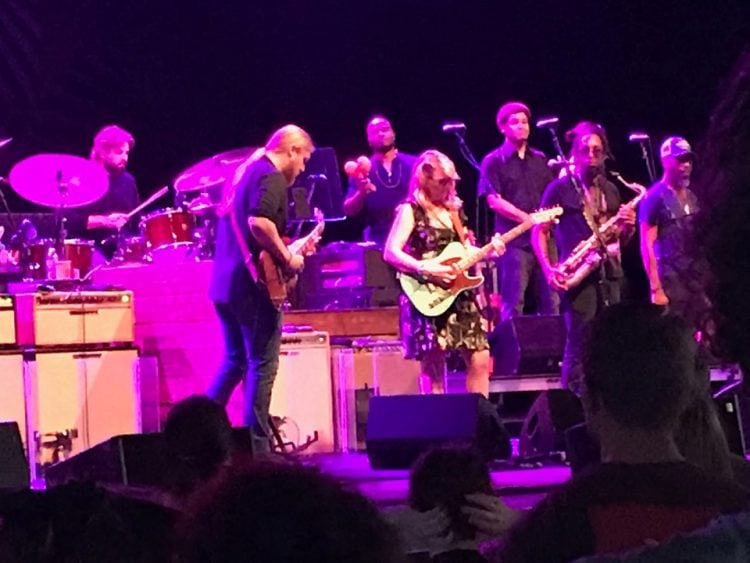 For the fast jump blues of Joe Tex's "Show Me," Mike Mattison came forward to duet with Tedeschi, him singing the "show me a man that's got a good woman" verse, and her the ones when the lyrics swing back the other direction, while Trucks used the solo section to play round robin with the horn section, giving Elizabeth Lea on trombone, Ephraim Owens on trumpet, and Kebbi Williams on sax, each of them taking a measure or two and passing it around until all four of them were practically competing one another's solo lines. Not only does this kind of musical generosity on stage reveal how one keeps a 12 piece band happy on a potentially crowded stage, but it was an electric moment that elevates the song and the appreciative audience.
Next up was "I'm Gonna Be There," a slower tune from the band's recent release, "Signs," with lots of "oh, oh, oh's" from the vocal section that included Mattison, Mark Rivers, and Alecia Chakour, supporting Tedeschi's lead. Trucks delivered a longer solo, again building and building to a climax with the full support of his attentive band-mates. With 12 people on stage, two drummers each approaching the rhythm differently, there's always plenty going on on-stage to hold your attention, which adds to the over-all musicality without, amazingly enough, sounding like a dense cluttered mess, due no doubt to the thoughtfulness put into the individual arrangements.
For the slower country ballad of Willie Nelson's "Somebody Pick Up My Pieces," the extra vocalists and all but Lea on the trombone left the stage, changing up the pace and tone. But everyone was back for the title track from their album released in February, "Signs, High Times," which allowed the singers to pass around the lead vocal with each one taking a turn, but Tedeschi revealed she had some guitar chops that were all her own, leaning into a sweet sounding, emotional solo that pulled plenty of grit from her Les Paul. That spirit carried over into "Keep On Growing," a song from Eric Clapton's Derek & the Dominoes album co-written with Bobbie Whitlock, which allowed Trucks not only to pay respect to his namesake, but play some Allman-like double leads with his wife, Tedeschi. For the lead vocal, she traded back and forth with Mattison, the horns staying solid on all the chord changes, and finally Trucks delivered a long, spirited solo that carried forward a nearly 50-year-old piece of music to the next generation of fans.
Given the established pattern, the rest of the set played out logically: "Let Me Get By;" "Get What You Deserve," a Derek Trucks track that pre-dates his joining up with Tedeschi; "I Pity the Fool," from a live album that came out shortly after the "Let Me Get By" album; and the set-closing highlight, "Made Up Mind." Tedeschi took an opportunity during a break in "I Pity the Fool" to get topical, she said: "We've got too much hatred going around, don't want babies in cages, we're better than that. Somebody's gotta step up and help somebody; Somebody's gotta stand up for something." The audience's loud applause suggested we were all on the same page. "Made Up Mind," like "Statesboro Blues," has one of those bold moments, Truck's strumming out the song's fast opening chords, and it was a great high-energy song to bring the set to its climax, which it did.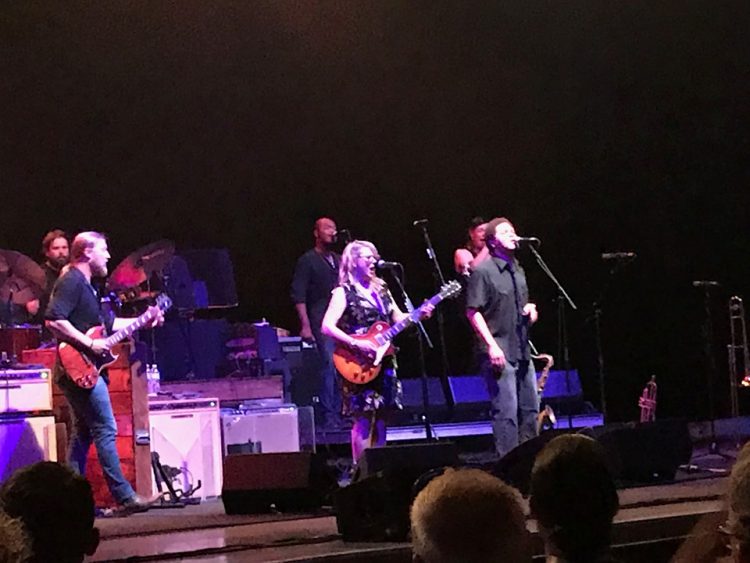 When the band returned to encore on "Statesboro Blues," Tedeschi introduced Charlie Starr, vocalist/guitarist with Blackberry Smoke, who'd played in the second slot opening the show. Susan belted out the opening two verses, and saved the last two for Starr, then on in the long solo section the Trucks led Tedeschi and Starr in a game of round robin, passing guitar lines around the circle in turn, all to the intense pleasure of the adoring crowd. It was a musical highlight, that left one with the impression it couldn't be topped. But then they did.
A handful of other players from Blackberry Smoke came to the stage with the returning vocalists and horn section, and soon as soon as everyone was situated, they dived collectively into Sly Stone's "Sing a Simple Song," with Tedeschi and her background singers passing the lead vocals back and forth, thus establishing a theme. Trucks, being the generous band leader that he obviously is, sent the solos around the band, starting with the two keyboard players, then the two drummers took a mercifully sweet and direct turn, before the band segued into "I Want to Take You Higher," and again the vocalists passed the lead around. Trucks handed things over for a long funky bass solo from Tim Lefebvre, and then gave on final display on his own virtuoso prowess on the slide guitar and Tedeschi Trucks and Company put another high energy show in the history books, a suitable ending for the "Wheels of Soul 2019" tour on a hot July night.
For their middle set, Blackberry Smoke took advantage of the sun beginning to go down to turn on the smoke machine which seemed utterly appropriate, as Starr led the six other members of his band to the stage to open with "Ought To Know," where he traded Allman brother-like dual guitar lines with second guitarist, Paul Jackson. The followed it with the more direct country rock of "Let It Burn," and then slowed things down with a light funk vibe for "Medicate My Mind," which brought Brandon Still's organ, but again Starr proved to be the main guitar soloist as well as lead vocalist. Starr introduced "Whippoorwill" as "an old one," but then turned up the energy for a fan favorite, "Flesh and Bone," with its reflection on hell-fire preaching that allowed for some fun turns of phrase and tasty guitar playing from Starr. As the band was nearing the end of its 45-minute set, "One Horse Town" and "Ain't Much Left of Me" put the band squarely in the cross-hairs of Americana's country rock music dilemma, the first offering a pretty, traditional country music song rooted in acoustic guitar strumming and strong vocal harmonies on the chorus. But Starr offered up some bluesy slide guitar before launching into the big rock chords that framed that song's hook, while many of the fans responded by singing along to the lyrics. Brandon Still added some honky-tonk piano to the mix, and then Starr turned the band suddenly into a brief cover of Led Zeppelin's "When the Levee Breaks," before returning for the final verse of "Ain't Much Left of Me," and some fun slide guitar heroics to bring the set to a close.
Opening the Wheels of Soul 2019 tour for the TTB promptly at 7 pm, still in the heat and humidity of the summer heatwave, was Shovels & Rope, the husband and wife duo from Charleston who's set was as entertaining as it was creative and curious. Entering to a pounding pre-recorded drum-beat, with the title of their latest album, "By Blood" on their shirts, Cary Ann Hearst sitting down to the drum-kit and matching the beat with her bass pedal, while she hit the snare with a drumstick in her left hand and played chords on a keyboard with her right, while Michael Trent strapped on a guitar and they launched into the latest single, "I'm Coming Out." While the band's do-it-yourself versatility was on display through their dozen or so songs, as Hearst and Trent traded places with him on drums and keys and her on guitar for a few songs, you had to admire their raw musicality and fun, self-aware songs in the face of adversity, as they sang "(I'm out here everyday with my) Hammer," or more accurately out there with their musical instruments. The explore Southern spirituality to a background of churchy organ on "The Devil Is All Around," and share their accumulated knowledge in the fun rocker, "I Know." Their vocal blend on every song is pure country, with Hearst high and echoey, but they're raw live instrumental approach is rock & roll played with pure punk attitude that feels both playful and deadly serious at the same time. At one point, Trent acknowledged the album title displayed on their shirts, saying "we got them printed up, nobody bought 'em, so now we wear them." They closed out their set with "Hail, Hail," a celebration of rock & roll that hits you with the power of a wrecking ball, a metaphor that suits Shovel & Rope well.
-Reviewed by Brian Q. Newcomb
Brian Quincy Newcomb has found work as rock critic and music journalist since the early 80's, contributing over the years to Billboard Magazine, Paste, The Riverfront Times, and The St. Louis Post-Dispatch.
Latest posts by Brian Q. Newcomb (see all)
Please follow and like us: