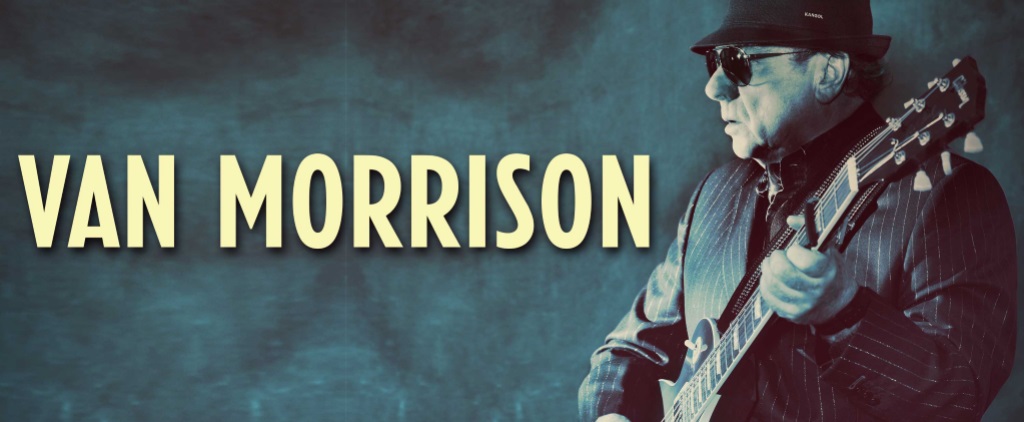 Van Morrison w/ The James Hunter Six; Chicago Theater, Chicago, IL – Thursday, April 25, 2019
The words "buyer beware" probably apply more to concert ticket prices these days, given that more often than not, it's very hard for the average ticket buyer to get tickets for a show at the ticket's printed price, and many of us end up purchasing through secondary outlets (read: scalpers). And for some artists with mercurial personalities and spotty records, that's become especially true when you consider how much we end up paying for tickets to see, let's say, one of your bucket list artists. The minute we told people we had tickets to see Van Morrison, he of "(What a marvelous night for a) Moondance" and "Brown Eyed Girl" fame, we started hearing their horror stories, of shows where he phoned it in, refused to play his hits, and the country show where he kept interrupting the show and insisting that the road crew move the drum riser six inches this way and then that.
So, given Morrison's tendency to only play cities on the coasts, and rarely play the Midwest, especially minor markets where I've lived, the idea of seeing him play live has until now proved difficult. But hearing that he'd been playing strong shows in Vegas, including a few of his hits and many fan favorites, we had reason to hope, and plan a trip to Chicago for the chance to see a musician who's long been an inspiration, and without a doubt a bucket-list hopeful. Plus, Van Morrison is 74 years old, B.B. King was still doing lively shows that highlighted his talents if a bit past his prime through his early 80's, but if we wanted to see the Irish crooner while he was still in solid artistic form, we had to admit time was starting to run out.
So, there was some satisfaction as we planned to attend the middle night of three sold-out shows in the somewhat historic Chicago Theater, on State St. in the heart of the city's Loop, and read the set-list from the previous night's show. He had played a 22-song set, including "Wild Night," "Moondance," "Enlightenment," "Cleaning Windows," and then ended the show with a two of his earliest hits: "Brown Eyed Girl" and "Gloria," from his days in the band, Them. So, we had reason to hope for a good show. So, having carefully written down the previous night's set list, I was hoping we'd get something close to Wednesday night's show. But clearly, "Van the Man" had something else in mind.
Following a fun 40 minute set by the James Hunter Six, and a quick 25 minute stage turn around, Morrison's 7 piece backing band took the stage and in classic soul review style started playing the opening number, and after a minute or so invited the sold-out crowd to welcome "Sir Van Morrison," the "sir," of course a reference to the fact that he'd been knighted for his contributions to the British Empire in his homeland of Northern Ireland. Wearing a shiny dark suit, dark sun glasses and a hat, Morrison resembled one of the Blues Brothers, but with a better tailor, he moved to center stage, grabbed his microphone on its stand in his left hand, and immediately started sing/scatting the lyrics of the title track of his 1999 album, "Back On Top." Morrison's voice is a soulful Irish tenor, one of the more recognizable and most delightful voices in pop music, and while he may not have worried much about articulation, his natural melodicism and vocal tone shown through from the start.
Clearly in charge of the band, in a move that would become familiar during the 90+ minute set, he would snap his arm down to signal he wanted to hear more snap from his drummer's snare. Morrison picked up a harmonica and soloed with a jazzy flair, and at song's end he barked out a command to his electric guitar player, Dave Keary, who immediately played the opening licks of a song medley that Morrison has been playing for the last year or longer, starting with "Baby Please Don't Go," by blues icon Muddy Waters, which segued into a song from his early band Them, "Don't Start Crying Now." This then segued back to another Waters classic, "I Got My Mojo Working," and then to Morrison's own blues tribute, "Playhouse," clearly sending the message that the singer sees himself as an artist in the blues and jazz tradition, rather than as the rock star many have come to see him as. Keary (and since Morrison never introduced his band, I'm assuming this is his long-time player along with several others) delivered a great jazzy guitar solo and Morrison played more mouth harp in an impressive display of blues. And he wasn't done yet with the blues yet. Morrison invited opening act singer James Hunter to join him on a duet of "Just a Little Bit," a cover of the 1959 song by Roscoe Gordon, that was later covered by Etta James and Elvis Presley.
Morrison next picked up a saxophone and led the band into the title track of his 1995 album, "Days Like This," and here again, like with the harmonica, he proved to be a fine soloist in this jazzy pop number. He followed that with one of his own compositions that is a true classic and has been covered by dozens of other singers, "Have I Told You Lately (That I Love You?)." Here, where most have performed it as a more saccharin sounding ballad, Morrison performed it with more of an up-tempo swing beat, Morrison playing sax in harmony with keyboardist Paul Moran on trumpet. Next was a bit slower, jazz number "Ain't Gonna Moan No More," a tribute that mentions Muddy Waters and John Lee Hooker among others in the lyrics, which is an original Morrison song from his latest album, 2018's "The Prophet Speaks." Here, Morrison wanted his band to shine, so he invited solos from his acoustic guitar player, the female percussionist and background singer on vibes, as well as Moran on trumpet, and he closed it out playing a fun, showy solo on the sax.
By this point, about a third of the way through our night with Sir Morrison, some things were becoming obvious. First, he came to play, and wasn't interested in the concert entertainer formalities, he seemed to be singing and playing soulfully, but as soon as one song ended, he was shouting instructions off mic to his band, wasting little time between pieces. Second, he seemed to have no regard for a previously established set list, he was calling out choices, sometimes speaking to members of his band while others were soloing, and he was following his muse, and the band — in addition to being crack players in their own right, well rooted in his large song catalog — had to be prepared to switch gears, switch instruments (his guitar player had several electrics, an acoustic and two lap steels within reach, and his bass player moved smoothly back and forth from an electric bass guitar and a stand-up acoustic), and dive in to wherever the next selection required of them, having learned all the parts by heart, as the only person I saw using sheet music was occasionally Van himself. And, third, while he didn't show a lot of emotion on his face, he was singing and playing with soul and energy, often snapping that right arm down to pick up the rhythm and get the desired punch out of his drummer… so, dare I say it, it seemed that quite possibly he was having fun.
Next up, was another of his album title tracks, this time from his 2005 release, "Magic Time," another pop melody ensconced in a great jazzy jam song, and again, Van took full benefit of the solid musicianship in his band, having solos from both his acoustic and electric guitarists, the vibes' player and he and the trumpeter both took instrumental solos, exhibiting some real emotional sax chops. But given that the audience was already fully engaged, when the sax, trumpet and vibes all started playing the melody of "Moondance" in harmony, well it took us all to the next level. Given that many of his fans have been carrying that song around inside their heads for over 49 years, it was no surprise to feel the excitement in the crowd go up a couple notches, with many singing along, but quietly enough to still hear Van's inimitable voice. Again, the arrangement favored jazz soloing all around the band, including a couple nice solo moments from the bass player.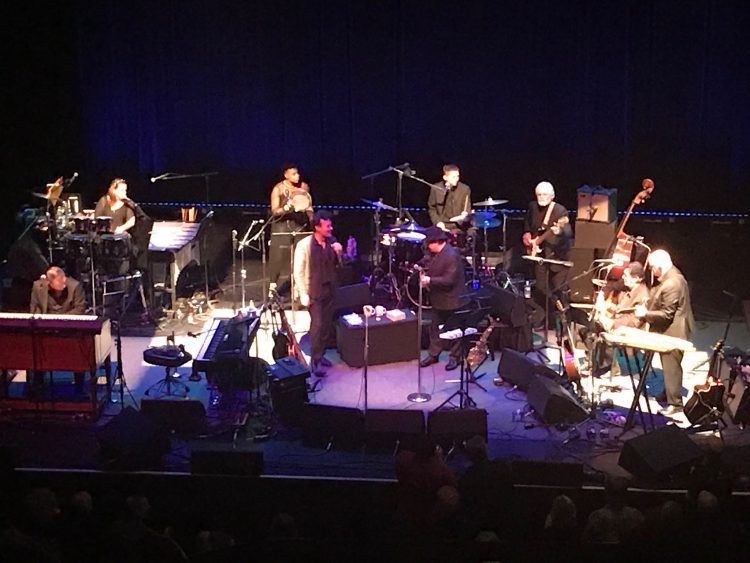 Van signaled to slow it down a bit for the next number, "Steal My Heart Away," when Van put his sax down for the rest of the evening. Moran moved to the piano to play the familiar opening notes that delivered the gospel feel of "Whenever God Shines His Light," giving the whole song a mild calypso feel. Here, the two women background vocalists, doubled up on harmonies to sing the part sung by British pop star Cliff Richard in the original, from Morrison's 1989 album, "Avalon Sunset." Morrison notably changed the lyrics in this one, replacing the "in Jesus' name" line, with "in heaven's name." My Rabbi friend from St. Louis who had traveled to attend the show, texted me about that the day after, suggesting that Morrison was being inclusive of folk outside the Christian tradition, which I agreed with. (I had wanted to look for Randy in the large confines of the Chicago theater for one of those "a minister and a rabbi walk into a concert" selfie's but it was not to be.)
In a rare moment, Morrison actually spoke to the crowd, borrowing a line from Monty Python, as he moved from the bouncy island gospel feel of "Whenever God," he said, "And now for something completely different." And sure enough, the band switched gears and did two country numbers, to which the talkative Irish man added, "this is from my country album, if anyone bought it." First off was "There Stands the Glass," attributed to Webb Price, for which Van strapped on an acoustic guitar, and Keary added appropriate levels of steel guitar. Which he followed, after barely a pause, with Don Gibson's classic "I Can't Stop Loving You," which Van had covered with more of a Celtic folk leaning back on his 1991 album, "Hymns to the Silence."
Switching gears again, Morrison moved to the piano for another song with a gospel music feel, "Vanlose Stairway," from the 1982 album, "Beautiful Vision." Here, the female vocalists played a central role again, singing the "Send me…" lines that start several lines in each verse. Then keeping moving in that open-ended spiritual direction, he stepped back to center stage for a fully on jazz treatment of a fan favorite (well, at least this fan), "Cleaning Windows." Here the band was back in full jazz grove, as Van sang lyrics that celebrated Jimmy Rodgers, Leadbelly, Sonny Terry, Muddy Waters (again!), and even Jack Kerouac as his spiritual mentors and musical inspirations, and then he sped things up toward the end, and segued into "Be Bop A Lula," the early rock n' roll classic by Gene Vincent.
If I needed any more proof, that Van Morrison was really giving us the show we came hoping to see, he went back for a deep track from his second album, 1968's classic, "Astral Weeks," for the song "Ballerina." Again, he turned to the trumpet and vibe player for solos, but in the longish jam that followed one of the highlights of the night was his acoustic guitarist who played a solo in the Spanish guitar style, at the end playing a fast, frenzied series of high notes way up the neck of his guitar. The crowd responded in raves, but surprisingly, Sir Van spoke again, responding to the solo with "that's impossible," with a big smile on his face.
The next choice was another medley that Morrison has been performing in live shows based on set lists I've seen, leaning on three tracks from his "Days Like These" album: "In the Afternoon," "Ancient Highway," and "Raincheck," that last one memorable for the repeated lyric, "won't let the bastards grind me down." Morrison ended that medley with the song "Sitting Pretty," where he relied on the two female vocalists to harmonize on the title each time it came around. As the 10-minute medley was coming to the end, the band kept playing getting quieter and quieter while Morrison slowly walked off the stage, but singing that constant refrain to brought back the women singing, "sitting pretty." Once he ended the song, it felt like he was gone and we should try to bring him back for an encore, but as quickly as he disappeared Morrison returned to the stage with James Hunter, from the opening act, in tow. Van and Hunter sang and blew harmonicas in duet for the classic jumping blues, "Help Me," by Sonny Boy Williamson.
Hunter quickly scooted off stage, and Morrison kicked the band into a rousing sing-along version of his biggest, and perhaps most beloved hit, "Brown Eyed Girl, which got much of the sold-out crowd on its feet, and singing along, and it swung on the organ sound right into "Gloria," the first time anyone heard Morrison's voice on the radio, his very first hit single with his band, smartly named Them. While many are familiar with later punk covers of this song, especially the version by Patti Smith, Morrison dug into the song with all the glory of his earliest of days, and the crowd spelled out the name with him, "G-L-O-R-I-A," for at least the three minutes of the original, and then he left the stage for the final time, with the Paul Moran asking us twice, "Let's hear it for Sir Van Morrison" and he was gone…. but in true soul revue band style, the band kept playing "Gloria," with all 7 members taking a solo, including a delightful break with the female vocalist, and then of course a too long drum solo, because all drum solos are too long. And it was over.
The opening set by the James Hunter Six recalled the era when rock & roll was new, and was still being played by old school pop acts full of talented jazz musicians. Hunter wrote and performed quick 3-minute pop songs with a mix of blues, swing and jazz chords, which benefitted from two saxophones an alto and a baritone providing a lot of counter melody, similar to lots of rockabilly. It was a fun, lively 40-minute set, accented with a few edgy blues drenched guitar solos from Hunter.
In the end, the ticket price, plus the effort and expense to travel to Chicago, were all worth it, to have 100 minutes of live music from Van Morrison and his crack band. Like many things in life, there's no way we'd get to hear every one of your desired favorites from an artist who's made over 40 albums in his 50-plus year career, so you aren't going to get everything you want… we didn't get "Into the Mystic," "In the Garden," or even "Wild Night," but we did get a good solid 100 minutes of heart felt music from a nearly 75 year old musical idol and icon… so we got what we needed, and it was sweet, and good.
-Reviewed by Brian Q. Newcomb
Brian Quincy Newcomb has found work as rock critic and music journalist since the early 80's, contributing over the years to Billboard Magazine, Paste, The Riverfront Times, and The St. Louis Post-Dispatch.
Latest posts by Brian Q. Newcomb (see all)
Please follow and like us: