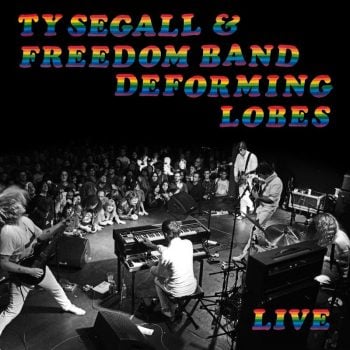 In 2018, Ty Segall and the Freedom Band — Mikal Cronin, Charles Moothart, Emmett Kelly, and Ben Boye — toured the world in support of Freedom's Goblin and played songs from Ty's entire catalog. If you have seen Ty and this band live you know that these shows were high octane and now Deforming Lobes captures the moment on record forever!
Deforming Lobes is out March 29th via Drag City and you can pre-order HERE. Recorded live on stage at Los Angeles' Teragram Ballroom via mobile unit onto two-inch tape and mixed at Electrical Audio with Steve Albini, Deforming Lobes updates (and upends) numbers from Melted, Emotional Mugger, Twins, Manipulator, $ingle$ 2 and Ty Segall. You can check out the track list below and hear "Love Fuzz" which closes out the album.

Deforming Lobes Tracklist:
1. Warm Hands
2. Squealer
3. Breakfast Eggs
4. The Crawler
5. Finger
6. They Told Me Too
7. Cherry Red
8. Love Fuzz
Online Music Magazine: Independent Music Reviews, Vinyl Spotlights, Music News, Videos, 7-inch record features + more!
Latest posts by Fire Note Staff (see all)
Please follow and like us: