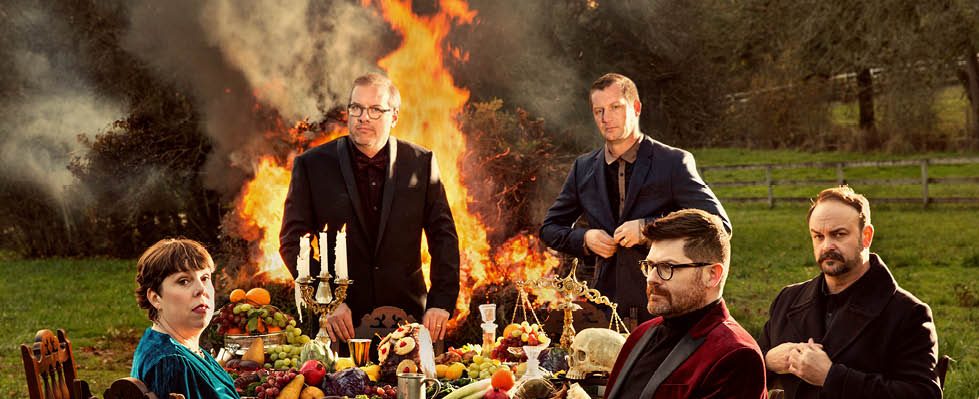 The Decemberists "Your Girl/Your Ghost" World Tour w/ Kacy & Clayton; Taft Theatre, Cincinnati, OH – Thursday, September 20, 2018
Thursday night's concert by The Decemberists was one whole day late for "International Talk Like a Pirate Day" but, while no one said anything close to an "Arrgh, Matey," fans of the Portland, Ore., band that packed the intimate confines of the Taft were obviously up for an old world sea shanty, folk songs rooted in old school story-telling, excursions into 'Dad Rock' territory, and indie pop/rock songs from their latest album, "I Will Be Your Girl."
Front-man and primary songwriter, Colin Meloy, opened the show by launching playfully into "Don't Carry It All," on acoustic guitar with a harmonica in a holder, while keyboardist Jenny Conley added to the song's old-world vibe on accordion, and Chris Funk contributed a solo on an electric bouzouki. The crowd rose to its feet, fully prepared to participate in every meaningful way possible.
"Sucker's Prayer" followed, from the band's newest work, Meloy playing electric guitar and leading the audience the song's somewhat perfect sing-along line, "I wanna love somebody, but I don't know how," with Funk also playing electric playing a sweet, melodic solo, his primary role throughout the night. Which flowed nicely into "Make You Better."
For "Cutting Stone," another old style folk story song, Meloy moved to a nylon string guitar, which suited td the song perfectly, then maintaining the mood played "Shankill Butchers," with Conley again on accordion, and for the song's solo break, drummer John Moen whistled the melody while shaking a noisemaker. Meloy, crediting Moen, mentioned that he also had an award-winning yodel, but we were all spared that experience.
For the up-tempo folk rock of "The Wrong Year," Meloy moved to 12-string acoustic, with that old world feel again summoned by Conley's accordion and Funk on that electric Greek bouzouki guitar. For the next song, "The Bagman's Gambit," bassist Nate Query moved to an upright bass, which he bowed on the faster choruses, as the band built those sections to strong dramatic moments.
Meloy, who earlier asked if fans knew that there was a secret tunnel from the Taft's basement to the Masonic Center next door but none of the locals seemed surprised, introduced "Calamity Song" as one "about the end of the world, so you now it's topical." And, of course, Meloy's dour lyrics were embedded in a cheery pop rock song, because that's the Decemberists' way.
Meloy said that since it was late-September the next song was a fitting tribute, as he put his harmonica holder over around his neck to begin "Anti-Summer Song," which also included Funk adding accents on the banjo. As he removed the harmonica, Meloy advised all the beard wearing folk among the audience not to take up the harmonica, saying that each night his pulled whisker hairs from his face, saying and "that's how much I'm willing to suffer to bring you pleasure," which won him good natured applause.
"Now, we're going to play some Dad Rock," announced Malloy as he strapped on an electric guitar for "The Rake's Song," which required Conley, Funk to play additional drums, supporting the big groove laid down by Moen and Query, which segued quite naturally into "The Queen's Rebuke/The Crossing," which featured Kelly Hogan, who had played a supportive role singing background harmonies, on lead vocal. Musically, these songs leaned toward classic rock sounds of late 70's, Funk playing power chords, Conley pulling big riffs out of her Hammond organ, and Meloy pacing the stage slowly as if imitating a large footed dinosaur, then playing his one instrumental solo of the evening, leaning on his effects petals for the appropriate level of guitar distortion, and I might have detected a bit of wah-wah.
Having paid tribute to the 70's, they moved ahead to the 80's synth/pop oriented "Severed," a nod to Depeche Mode/Thompson Twins era new wave, which was the first single from I'll Be Your Girl, creating the fear in some that its sound would define the rest of the album. But the next song, also from the new album, "We All Die Young," was another shout along chorus locked down by a walking bass line, and an old school rock & roller, complete with Funk on a saxophone solo. It's clear that for all their serious folk-song rooted pretentions, at their heart The Decemberists like playing against type, and creating big, fun, we're all in this together concert moments too.
And they kept bringing them fast and furious, with "O Valencia!," a sure sign the shows was moving toward it's climax. Meloy helped the audience find the song's clapping pattern, then illustrated the song's death and resurrection lyrics by lying down on the stage, and, well… rising, as he led the audience in the sing-along, with emphasis on the lines "wait by the car and we'll go, we'll go, oh, oh," and "I'll burn this whole city down." Then, to end the set proper, Meloy introduced the last album's title track, "I'll Be Your Girl," which benefits from Conley playing glockenspiel along with piano. As it ended, Meloy said a quick "Thank you, good night," and they left the stage.
Returning after enough loud applause to make it feel authentic, Meloy returned and the band struck their usual poses as the ironic loser of "Once In My Life," who's been "waiting all my life, for something to go right," which displayed the band's impeccable pop rock chops, strong rhythms, lush keyboards, the folk song roots that build elegantly to orchestral depth, and every voice in the place singing along.
The second encore, Meloy warned had really crude lyrics, but then said that he hadn't written them. Lin Manuel Miranda had written a lyric for "Ben Franklin Song" that he thought would have had a Decemberists feel, explained Meloy, than sang the song, which was full of clever poetry describing Franklin's "genius," and a pretty bold, oft-repeated expletive (check out the youtube video, but it's NSFW). But, as much fun at that was, the evening wasn't done just yet.
For their final act, Meloy & company prepped the audience for the fully participatory "Mariner's Revenge Song," by teaching us to project the long, lusty scream that one would accompany being bitten in half by a wail. The sea shanty tale was accompanied by accordion and mandolin, and a large helium-filled balloon whale that the crew floated across the stage and around the auditorium, while the band rocked and mocked, and sang the song to it's lusty, pirate-y conclusion. And, as they often say, a good time was had by all.
The evening's opening act was Kacy & Clayton, a female folk singer accompanied by her cousin on acoustic guitar, and occasionally singing harmonies. They played a half hour's worth of songs that turned out to be exactly what I expected when I read that they were a traditional folk group from Wood Mountain, Saskatchewan. It's good to learn that some things in life are just that reliable.
-Reviewed by Brian Q. Newcomb
Brian Quincy Newcomb has found work as rock critic and music journalist since the early 80's, contributing over the years to Billboard Magazine, Paste, The Riverfront Times, and The St. Louis Post-Dispatch.
Latest posts by Brian Q. Newcomb (see all)
Please follow and like us: