Future Islands


The Far Field
4AD [2017]


Fire Note Says: Somber and spare, The Far Field marks a surprising change in tone for Future Islands.
Album Review: Mainstream audiences were first introduced to Future Islands frontman Sean Herring, in all his demon-voiced, swivel-hipped glory, when Future Islands' played the poppy, charismatic "Seasons (Waiting on You)" on The Late Show with David Letterman in 2014. It was the stuff of viral legend, pairing Herring's gonzo showmanship with effortlessly catchy pop glory for an enigmatic, theatrical, hopeful and fun performance.
My, how things have changed. Fans who expected Future Islands to double down on the upbeat, optimistic wonder-pop of Singles will quickly learn that The Far Field offers no such thing. Instead, on their most recent record Future Islands delivers a melancholy work rife with rumination on despair, lostness and heartache. The tone, tempo and content of The Far Field is an unmistakable emotional departure..
Over and over again on second single "Cave" Herring sings, "I don't believe anymore," and he spends the entire record driving the point home. On "Through the Roses" — likely the strongest and certainly the most devastating song on the record — Herring calmly opens a window the darkest of places, plainly exploring suicidal thoughts with honest, genuine fear riding on his tongue. If Herring sometimes plays a character — even a slightly distorted version of himself — there is no trace of that on "Through the Roses." It's a song as naked and hopeless as they come, and takes Future Islands to unprecedented emotional depths.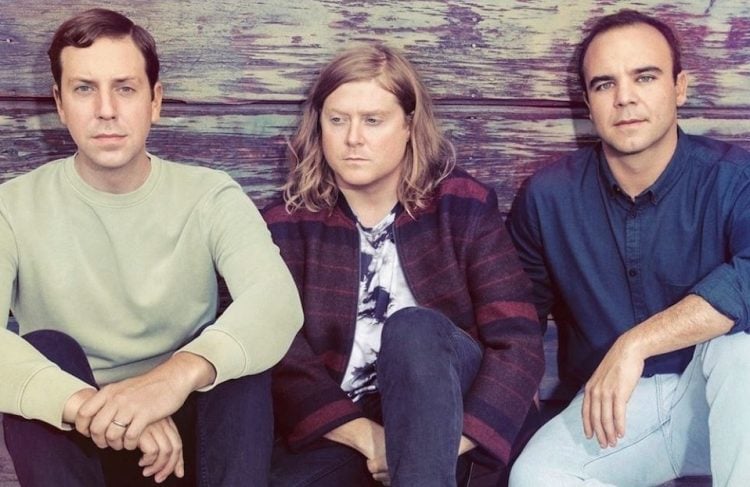 But despite a lyrical turn for the bleak, most of Future Islands' original ingredients remain in the mix. Each song on The Far Field is the product of little more than Herring's booming voice, Gerrit Welmers shimmering synths, William Cashion's effortlessly groovy bass lines and simple beat; Future Islands isn't out to redefine their sound, so fans of the band's unwavering devotion to straightforward synthpop needn't fear a total reinvention. The jet-fuel burst of energy that precedes the chorus of "Ran" launches the song clean into the stratosphere, decorating Welmers' wobbly atmospheric synth and Cashion's plucky bass with flashing hi-hats and Herring's rich, towering vocals before dropping back to a cool cruising altitude. Debbie Harry brings a mystic, theatrical power to "Shadows," a haunted, mid-tempo tune littered with weird twisting synths and just the right amount of intrigue.
I don't know that anyone expected Future Islands to follow Singles with a record quite like The Far Field. The unanticipated change in tone is a testament to Herring's tremendous emotional capacity as a frontman, as well as his band's remarkable ability to keep their simple formula for sonic success feeling fresh with each new breath. And though The Far Field is not an easy or cheerful listen, it manages to shine in spite of — or maybe even because of — it's unnavigable darkness.
Key Tracks: "Ran" / "Shadows" / "Through the Roses"
Artists With Similar Fire: New Order / Ulver / Metronomy
Future Islands
Future Islands Facebook
4AD
– Reviewed by Dylan Gallimore
Dylan Gallimore is a writer from New Jersey, now living in Philadelphia, whose fiction and nonfiction have been published online and in journals across the country. Like every other Millennial, he's got dozens of The Killers' lyrics tattooed across his brain, and he's A-OK with it.
Latest posts by Dylan Gallimore (see all)
Please follow and like us: