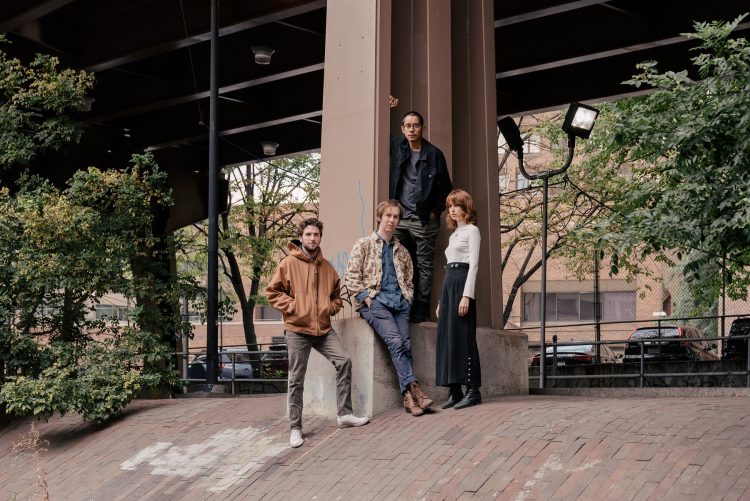 Trouble In Mind has been on a hot streak this year and the label's 2018 lineup is already looking solid. Today's Friday Fire Track artist, Olden Yolk, is more proof that they are a label to save some up some hard-earned cash for next year. The New York-based group is led by songwriters, vocalists, and multi-instrumentalists Shane Butler (of Quilt) and Caity Shaffer. The band's self-titled debut is coming out February 23, 2018.
Today's Friday Fire track, "Takes One To Know One," is a play on the phrase and here means to accept the collective situation rather than belittle it. It is a dense momentum building track that almost spreads to eight minutes and holds your attention every step of the way.
As you cross the two-minute mark in the song its vocals break out in a chanting chorus as they now soar over the rhythmic pulse of the track's addicting underbelly. The group also rides some intricate layered vocals in its midsection that just highlights the complexity of Olden Yolk. The song sounds like the perfect headphone groover with its distinct movements as this album hits in February and will fit in with a scenery of potentially snow-covered ground.
Olden Yolk already has us excited for 2018 because "Takes One To Know One" just scratches the surface of their album. Enjoy your Friday!

Olden Yolk Website
Olden Yolk Facebook
Trouble In Mind Records
Thomas has a wide range of musical tastes as the NYC scene consistently broadens his pallet. Thomas is enjoying the opportunity to write at TFN and in his spare time is always looking for limited pressings of vinyl to add to his ever growing collection.
Latest posts by Thomas Wilde (see all)
Please follow and like us: