The Replacements


For Sale: Live At Maxwell's 1986
Sire/Rhino [2017]


Fire Note Says: Minneapolis' 80's punk heroes captured live in all their raw, ragged glory.
Album Review: Gather round my children, and I'll tell you a story about a far distant time called the 80's when punk bands weren't mere fashion statements marketed by corporations, a time before cleaned up, processed and packaged acts bought their jeans pre-shredded, their Doc Martin's pre-scuffed. It was a DIY reaction to 70's glossy, over-produced commercial album-oriented-rock, which felt plastic and fake. In the early 80's, punk bands were springing up in suburban garages across America, and in Minneapolis (where I went to grad school), bands like Hüsker Dü, Loud Fast Rules (which later became Soul Asylum), and The Replacements were playing all-ages shows at 7th Street Entry, the small club underneath the more famous First Avenue, where Prince filmed the club scenes for the film "Purple Rain."
Oh, and let me tell you about the ticket prices, you won't believe it. In 1983 I once paid $6 to see 5 bands play outdoors on Navy Island in nearby St. Paul. It was R.E.M.'s first national tour, supporting Murmur, and they brought Let's Active along as their opening act. Out of sheer kindness, R.E.M. let local band the Suburbs close the show, as they had just signed a record deal with a major label, and two more local bands started the show, The Phones, and the aforementioned Replacements. Those were the days, my friend. And of course, the Mats, a nickname based on an inside joke between the band and its fans— short for Placemats—went on to produce influential albums, Let It Be ('84), Tim ('85), and Pleased to Meet Me ('87), which included one of the band's best known songs, "Alex Chilton."
While the band sometimes played tight, fun, aggressive shows, The Replacements had also earned a reputation for coming on stage too drunk to play well, or serving up their set in ways that antagonized and alienated audiences, including a notorious performance broadcast on Saturday Night Live that got them banned from ever returning to the show. So the arrival of this long-lost 1986 recording of the band in the intimate confines of Maxwell's, a favorite rock club in Hoboken, New Jersey, feels like a minor miracle.
While it seemed like the band's tendency to sabotage themselves with record company execs, not unlike the SNL fiasco, would make an attempt to capture the essence of the Mats at their best on a live concert recording a lost cause from the get-go, the newly released album is proof that this band was capable of even surprising themselves. As it is, recording in late January of 1986, For Sale captures the original quartet in all its ragged glory, since lead guitarist Bob Stinson would be fired by the end of the year, between the albums Tim and Pleased to Meet Me, and the band's move to a more accessible pop friendly approach.
The 80 minute show, 28 songs spread across two discs/double vinyl, finds the band playing fast and loose, raw and ragged, but holding it together enough to deliver the goods, with most of the songs only running between 2 and 3 minutes. While early songs like "I'm In Trouble" and "God Damn Job" are brief bursts of angst-ridden punk, a chance to rage about the state of the world, there's also lots of evidence of Paul Westerberg's growing skills as a songwriter. Take "Can't Hardly Wait," with its more complicated structure and a solid pop melody, which even shows up in Stinson's guitar lines, and the funny lyric "Jesus rides beside me/and he never buys any smokes." This band was in transition to be sure, but for this and quite a few more sweaty nights on stage, they were a force of nature, and at the heart of it is the guitar playing of Bob Stinson, who manages to play fast, precise leads that mix blues and metal influences, but can also can get lost in a flurry of sound when called for.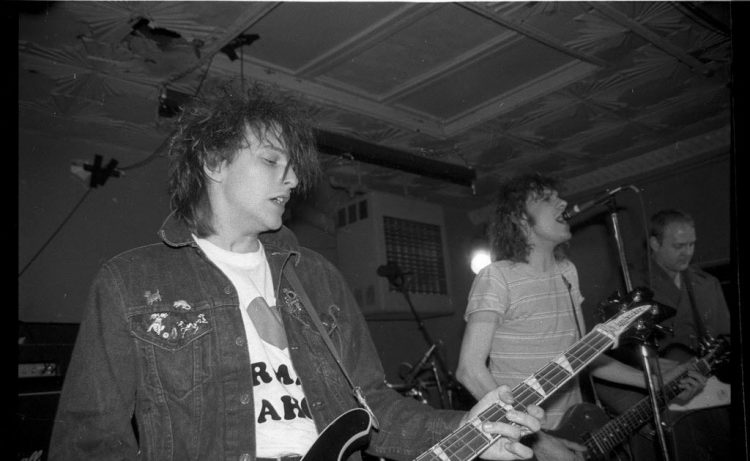 They start out loud and fast, opening with the feedback lead in to "Hayday," followed in quick succession by "Color Me Impressed" and a potent rendition of "Dose of Thunder." But, Westerberg keeps repeating another inside band joke by yelling, "murder," and even working the word into the lyric of several of the songs early in the set. Late on the first disc, after a pretty blistering version of "Kiss Me On the Bus," a fan yells out "Free Bird," which means that crap has been going on for a long, long time, and Westerberg responds yelling "Murder!" before leading the band into a Kiss cover, "Black Diamond." Other covers include The Beatles' "Nowhere Man," Vanity Fair's "Hitchin' A Ride," T. Rex's "Baby Strange" and brief stab at The Sweet's "Fox On the Run" early on.
As I've said before, every music form has a polka hidden deep in its secretive past, and in punk bands it surfaces more often than you might expect, and can be heard here in "Tommy Gets His Tonsils Out" and the front fast section of "Otto." And for a hardcore punk band, The Replacements also deliver a pure country take on "If Only You Were Lonely," where Westerberg appears to struggle with the lyrics early on. While one of the Mats best known and loved songs from that early era, "Bastards of Young," is tossed off without much effort, we get spirited efforts here and there, including solid takes on "Left of the Dial," in spite of Westerberg having trouble again with the lyrics.
Westerberg starts off "Answering Machine" solo, appearing to falter and lose the song's melody at several points, but then once the band kicks in, that song and the next couple connect with a fun sense of purpose and energy – "Waitress In the Sky," "Take Me to the Hospital," and "Gary's Got a Boner" give a glimpse of the raw chemistry when the band is hitting all cylinders. Drummer Chris Mars, bassist Tommy Stinson, led by the dueling talents of guitarist Bob Stinson and singer/songwriter Paul Westerberg.
There's a lot of fun here, for those familiar with all this music, and for those less familiar a bit of an education. So, get to class on time, don't be that guy who yells out "Color Me Impressed" about 50 minutes after they played it. Pay attention, and respect your elders.
Key Tracks: "I'm In Trouble" / "Can't Hardly Wait" / "Dose of Thunder"
Artists With Similar Fire: Hüsker Dü / Ramones / Sex Pistols
The Replacements Website
The Replacements Facebook
Rhino
– Reviewed by Brian Q. Newcomb
Brian Quincy Newcomb has found work as rock critic and music journalist since the early 80's, contributing over the years to Billboard Magazine, Paste, The Riverfront Times, and The St. Louis Post-Dispatch.
Latest posts by Brian Q. Newcomb (see all)
Please follow and like us: