Big Head Todd And The Monsters


New World Arisin'
Big Records [2017]


Fire Note Says: Colorado jam band, Big Head Todd & the Monsters get better with age.
Album Review: There are some bands that peak early. They come fresh out of the box with that one big idea that will set them apart, all the pieces come together before they even quite understand that they have unleashed the genie from the bottle. And, boom, they break big, only to spend the rest of their careers trying to recapture that magic. Colorado's Big Head Todd & the Monsters are not that band. BHT&TM's are the band that start small, and grow, but best yet the music evolves as they expand their vocabulary, and they get better every time you check in on them.
On New World Arisin', the band's eleventh studio album (not counting three official live concert albums, and two blues recordings released under the Big Head Blues Club moniker), we hear the band spread out in a variety of jam band and blues rock styles, broadening their appeal, and producing a diverse array of fun sounds that never seem to repeat. The album's title track opens with a big rock chord riff over a tribal beat, with a bit of blues scat singing to cinch the hook. But on "Glow," the disc's opening track, finds singer Todd Mohr crooning at the top of his vocal range, while the tune moves from a spacey open vibe, with a trippy drum beat and an almost orchestral keyboard part. And so it goes, you wouldn't guess they were the same band if you didn't know better.
And so it goes. "Trip" has a funky R&B vibe, with a percolating synth part, but it too builds to a satisfying climax around a tasty guitar solo from Mohr, with the rhythm section of Rob Squires (bass) and Brian Nevin (drums) following his lead. On "Detonator" they do their imitation of the Replacements's punk rocker, where Mohr goes full Chuck Berry for a burst of guitars at the midpoint. "Wipeout Turn" expands like jangle rock jam feel, in the vein of The Band, with piano leading on the front end and a strong bluesy guitar solo to take things out. At least half of the songs here, end at about the place you can imagine that band taking the riffs out for an extended dance around the stage.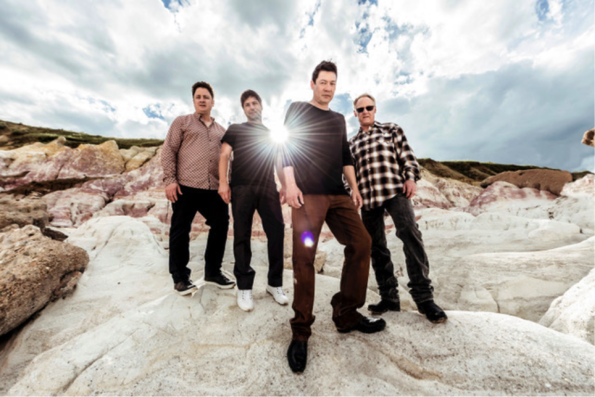 You can feel the influence that making those blues cover albums has had on the band's original songs, and that's one of the threads that holds the more diverse aspects of their sound together as a whole. "Long Coal Train" is the boldest example there, with a slinky chorus chant, and then simmering Hammond organ playing and a stormin' guitar solo. The instrumentals here are impeccable, smartly played and arranged for maximum appeal in the briefest possible space. This is a band that can fit in the economy sedan required to get your songs heard, but are happy to stretch out into more expansive versions once they've gotten your attention.
All the way back in 1993, Big Head Todd hit it big with their redundant but omnipresent single, "Bittersweet," you would not guess that they'd still be with us over two decades later, with a far stronger and more interesting release. There's something to be said for going the distance and growing as you go… and New World Arisin' is the proof.
Key Tracks: "New World Arisin'" / "Damaged One" / "Long Coal Train"
Artists With Similar Fire: Dave Matthews Band / Ben Harper / Blues Traveler
Big Head Todd And The Monsters Website
Big Head Todd And The Monsters Facebook
– Reviewed by Brian Q. Newcomb
Brian Quincy Newcomb has found work as rock critic and music journalist since the early 80's, contributing over the years to Billboard Magazine, Paste, The Riverfront Times, and The St. Louis Post-Dispatch.
Latest posts by Brian Q. Newcomb (see all)
Please follow and like us: