Neil Finn


Out Of Silence
Lester Records [2017]


Fire Note Says: Neil Finn, late of Crowded House and Split Enz, delivers mature, intimate pop sounds focused by piano and an orchestra.
Album Review: Face to face with terrorism, whether of the international kind that generates so much of the news and dialogue these days, or of the much more personal sort that arises from the way we mistreat one another in our daily lives, singer/songwriter Neil Finn has one response. In the song "Terrorise Me," which references the Paris attack on restaurants and a concert venue, Finn refuses to accept that "there's nothing good that anyone can do or say." His coping mechanism and resolve offers that "love is stronger when it hurts," so "I will write a melody that I will sing for you when I return. It may not change a lot, but I'll give it everything I've got. It will come to life because of you."
As the one-time leader of the band Crowded House, with hits like "Don't Dream It's Over" and "Weather With You," and prior to that a member of his brother Tim's band Split Enz—Australia's answer to The Squeeze—Finn has had a long and storied career rooted in the idea that meaningful music and honest, heartfelt songwriting is a fitting way of dealing with the challenges of life. And besides his best known hits, he has a remarkably deep catalog or strong expressive works, both in his bands, with his brother (The Finn Brothers), and as a solo artist.
Out Of Silence is Finn's 7th solo album , and a step away from the direction of his 2014 release, Dizzy Heights, which found him experimenting sonically with his producer Dave Fridmann, who had previously worked on more psychedelic efforts by the likes of The Flaming Lips. Here, Finn's approach is much more direct, choosing to focus on piano rather than the guitar based works that dominated his Crowded House heyday, supported by a full orchestra, and chorus. While his knack for catchy melodies remains a strength, there is a quiet intimacy and elegance here that is a bit melancholy as it takes on life in all it's beautiful complexity.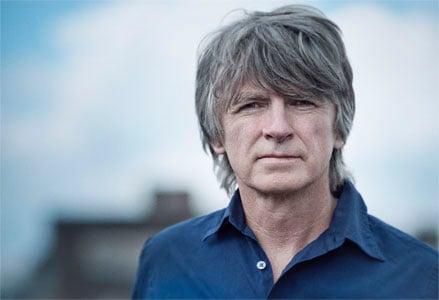 For instance, in the opening track, "Love Is Emotional," Finn seeks to move past the idea of love as a romantic "concept, a road to redemption," to admit that it's truly beyond us, "out of control." In both "More Than One of You" and "Chameleon Days," he acknowledges the we often put a false foot forward, but we'll only be satisfied when we're more honest with ourselves and each other. And while these heart-on-your-sleeve songs tend to push in a pretty serious direction, Finn is not above taking the piss out of a stereotypical "sensitive guy," who rides "on a Vespa, he wears a hairnet, a tattooed arrow heart."
I usually rail against the idea that getting older, makes an artist, or anybody for matter, mellower with age. But this album would not be one I'd use to make that case. Uniquely recorded live in the studio in one four hour session that was streamed online on the interwebs, new fans and those who've followed every twist and turn in Finn's career, Out Of Silence is a lovely, reflective piece from an artist who's more than willing to take on life's complexities and paradoxes, and still manages to bring deliver his thoughts in accessible, mature, and satisfying pop.
Key Tracks: "Second Nature" / "Love Is Emotional" / "Terrorise Me"
Artists With Similar Fire: Crowded House / Split Enz / Squeeze
Neil Finn Website
Neil Finn Facebook
– Reviewed by Brian Q. Newcomb
Brian Quincy Newcomb has found work as rock critic and music journalist since the early 80's, contributing over the years to Billboard Magazine, Paste, The Riverfront Times, and The St. Louis Post-Dispatch.
Latest posts by Brian Q. Newcomb (see all)
Please follow and like us: