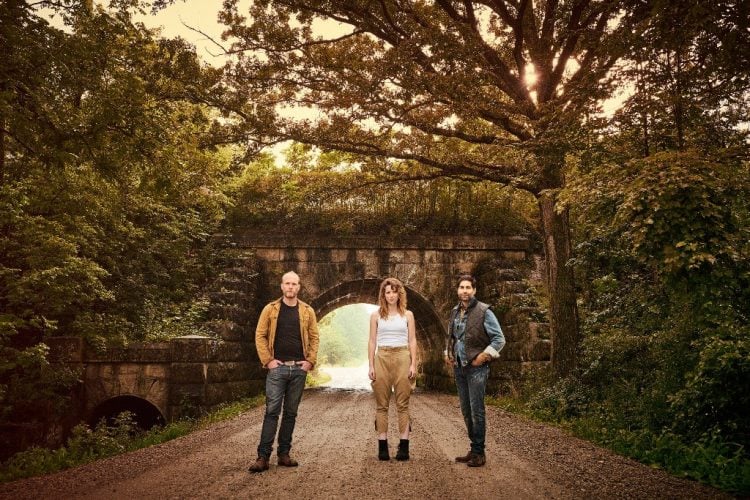 The Rural Alberta Advantage are back! The band will release their new studio album, The Wild, on October 13th via Saddle Creek Records in the US and Paper Bag Records in Canada, the United Kingdom and Europe. The Friday Fire Track today, "Brother," brings back RAA's intense indie folk with its marching foot stomps and lead singer Nils Edenloff's strained delivery. The band shows off their true talent at the midpoint on this track as everything gets turned up several controlled notches.
The Rural Alberta Advantage is so good at this style and heartbreak, passion and intensity are givens. TFN has not heard The Wild yet but if "Brother" is any indication, the album could easily end up in our Blazing Top 50 at the end of the year. The band already has a string of tour dates to support this release which you can check below so play the track, check the dates and enjoy your Friday!

The Rural Alberta Advantage Website
The Rural Alberta Advantage Facebook
Saddle Creek Records
Paper Bag Records
TOUR DATES
Fri-Oct-20, St John's, NL, Club One
Sat-Oct-21, Halifax, NS, Halifax Pop/MultiPurpose Centre
Tue-Oct-24, Ottawa, ON, Bronson Centre
Thu-Oct-26, Waterloo, ON, Maxwells
Thu-Nov-02, Cambridge, MA, The Sinclair
Fri-Nov-03, Brooklyn, NY, Rough Trade
Sat-Nov-04, New York, NY, Bowery Ballroom
Mon-Nov-06, Washington, DC, Rock n Roll Hotel
Tue-Nov-07, Ashville, NC, Mothlight
Wed-Nov-08, Atlanta, GA, The Earl
Fri-Nov-10, Nashville, TN, The High Watt
Sat-Nov-11, Memphis, TN, Hi Tone
Sun-Nov-12, Dallas, TX, Dada
Mon-Nov-13, Austin, TX, Barracuda
Thu-Nov-16, Phoenix, AZ, Valley Bar
Fri-Nov-17, Los Angeles, CA, Troubadour
Sat-Nov-18, San Francisco, CA, Great American Music Hall
Mon-Nov-20, Portland, OR, Hawthorne Theatre
Tue-Nov-21, Seattle, WA, Neumos
Fri-Nov-24, Vancouver, BC, Commodore
Sat-Nov-25, Kelowna, BC, Kelowna Community Theatre
Mon-Nov-27, Red Deer, AB, Red Deer Memorial Centre
Thu-Nov-30, Edmonton, AB, Union Hall
Fri-Dec-01, Saskatoon, SK, O'Brians
Sat-Dec-02, Winnipeg, MB, Pyramid
Sun-Dec-03, Minneapolis, MN, First Ave
Wed-Dec-06, Toronto, ON, Danforth Music Hall
10/20, 10/24-12/6 with Yukon Blonde

After spending the early 90's managing a record store, the mid to late 90's producing alternative video shows and 00's blogging about the music scene Christopher Anthony is always ready to hear new music.

Latest posts by Christopher Anthony (see all)
Please follow and like us: