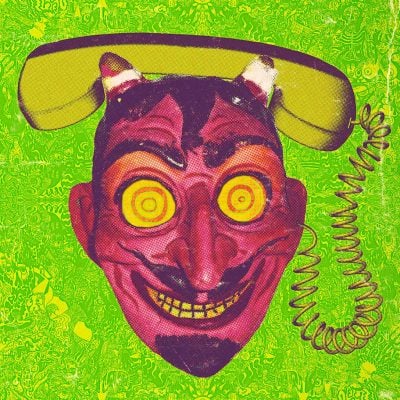 Hopefully by now Frankie and the Witch Fingers are on your radar because if you are a fan of 13th Floor Elevators, Spacemen 3, Ty Segall, Thee Oh Sees, Modern Garage and Psychedelic Rock – they should be. The groups fourth LP, Brain Telephone, hits 9/15/17 via Permanent Records and is available in a very limited 150 copies on Orange Sunshine Vinyl.
You can see the label description below and pick up a copy HERE.

"As the diamond hits the plastic on Frankie and the Witch Fingers' Brain Telephone, a sonic tornado swirls out of the speakers and into your ears like a psychedelic party-line flipping a black-and-white world into technicolor. The quartet cooks up a cachophonic soup of sounds which boil over as the troglodytic beat and the fuzzy phased-out guitars melt together. From here, the spell gets sweeter. A rock n' roll groove laced with slapback and heady lyrics quickly connects your call to the Witch Finger's acid boogie shack nestled deep in the belly of Los Angeles. A transformation occurs as mind bending shadows appear on a yet-to-be-named purple planet with lush gardens of grinning neon fungi bopping and swaying along to each catchy hook and chorus. The serpentine tape reels capture Texas barn burners, hallucinogenic Chuck Berry guitar licks, and middle-eastern rave-ups along the way as well. This adventure is littered with evil caricatures and surrealistic visions that will warble your mind, if you stay on the line."
Online Music Magazine: Independent Music Reviews, Vinyl Spotlights, Music News, Videos, 7-inch record features + more!
Latest posts by Fire Note Staff (see all)
Please follow and like us: