Beach Fossils


Somersault
Bayonet Records [2017]


Fire Note Says: Beach Fossils keep things moving and interesting on Somersault.
Album Review: Beach Fossils are impressive for many reasons, but the other bands that started as their offshoots is attention-grabbing. Former members John Pena and Cole Smith started Heavenly Beat, and DIIV, respectively. While Beach Fossils sit firmly in the shoegaze/indie pop realm, their sound does tend to incorporate many musical perspectives, so the offshoots thing makes a lot of sense.
The dreamy rock/pop of Beach Fossils does feel like something that peaked 5-10 years ago; there is something that sounds familiar about Somersault. Dustin Payseur is wise to change things up once you get comfortable with this album, though. The first two tracks are decently catchy and dreamy, but it's with "Saint Ivy" when things get funky. Any by funky, I mean a flute solo. Nothing makes you wanna rock more than a flute solo. It's the right move, though, because it's a) unexpected and b) fits within the aesthetic of the song. That solo leads right into a Beatles-esque guitar solo. In fact, Payseur seems to be channeling the Beatles through much of Somersault.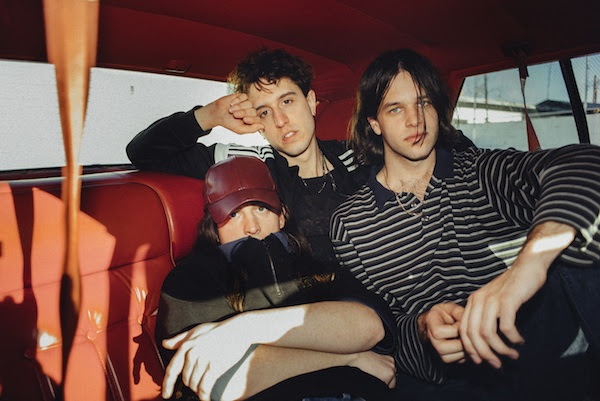 Other unexpected delights on the album include a rap song ("Rise") and the psychedelic interlude in "Be Nothing." The lo-fi production on Somersault dampens the impact of the guitar work on "Be Nothing," but it still lands it punch. I'd love to hear what it sounds like live. "Down The Line" is a burner that harkens back to early R.E.M., complete with a biting political message.
Payseur's tone and lyrics are tired and world-weary. In that sense they match the production on the LP well. And despite the surprises sprinkled through Somersault, it is a true album due to its consistent themes of dissatisfaction with the world and distaste for oneself. It's 36 minutes pass by quickly. The only complaint is that it feels out-of-date; it needed one more sneak attack to escape it's been-there-done-that feel.
Key Tracks: "Saint Ivy" / "Be Nothing" / "Down The Line"
Artists With Similar Fire: Heavenly Beat / Wild Nothing / DIIV
Beach Fossils Website
Beach Fossils Facebook
Bayonet Records
– Reviewed by Matthew Heiner

I appreciate being able to write for The Fire Note, as it gives me an excuse to keep up with what's happening in new music.

By day I am a dad and a psychologist; I often use music as a way to connect with both my kids and my clients. One of my proudest moments as a father was when my 12-year-old daughter told me of her undying love for Radiohead.

Latest posts by Matthew Heiner (see all)
Please follow and like us: