Less Than Jake


Sound The Alarm EP
Pure Noise Records [2017]


Fire Note Says: Less Than Jake, long time punk/pop and ska favorites, doing what they do best.
Album Review: In the category of "Do you remember when…" and "I can't believe they're still together," Less Than Jake returns with this seven-song EP, marking their 25th year as a band. Which means that if you are like me and can remember their energetic and highly entertaining sets at the Warped Festival in the mid-90's when they shined alongside bands like Blink 182, NOFX, MxPx and Goldfinger; then this review could make you feel old. Or it could recall great tours like the Ska Against Racism shows with The Toasters, and that great period when bands like The Mighty Mighty Bosstones and Reel Big Fish were bringing punk/pop and ska together in a loud, fun, and noisy way that even managed to rescue alternative rock radio from it's love affair with grunge for at least 3 and a half minutes every hour.
Well, the five-piece from Gainesville, Florida, have been at it all this time, and now have the seven punchy punk/pop and ska songs on the Sound the Alarm EP. "Call to Arms" opens the record with a fast punk drive by the kind of quick funky bass line that never gets old. "Bomb Drop" has a similar pop punk hook, but also displays a smart use of their horns to keep the music fun and interesting. The slower ska based pop songs like "Whatever the Weather" and "Welcome to My Life" find guitarist Chris DeMakes and bassist Roger Lima sharing the vocals with the kind of ease that comes from playing together for so long, and again the horn arrangements provide a crisp accent to the rhythm section.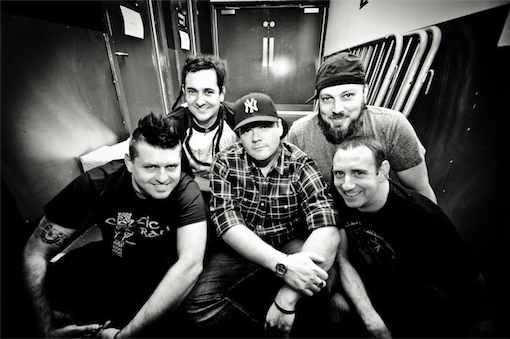 As titles like "Call to Arms," "Bomp Drop" and "Years of Living Dangerously" suggest, Less Than Jake is responding to the world around them with fair amount of "doom and gloom," as they sing in "Good Sign," before they affirming their desire to "take it as a good sign."
So, if you're looking for a soundtrack that will lift your spirits while waiting for the bomb to drop, you will want to check out this latest offering from Less Than Jake, it's got a great beat, and you definitely can dance to it. As they sing the closing fast punk rocker, "Things Change," there comes a time in your life when even at the end of a fun party, you find yourself wondering if "it's too late to want something more." There're a lot of things changing in this world that you can't control, but at least Less Than Jake are still doing what they do best.
Key Tracks: "Call to Arms" / "Bomb Drop" / "Welcome to My Life"
Artists With Similar Fire: The Urge / Reel Big Fish / Mighty, Mighty Bosstones

Less Than Jake Website
Less Than Jake Facebook
Pure Noise Records
– Reviewed by Brian Q. Newcomb
Online Music Magazine: Independent Music Reviews, Vinyl Spotlights, Music News, Videos, 7-inch record features + more!
Latest posts by Fire Note Staff (see all)
Please follow and like us: