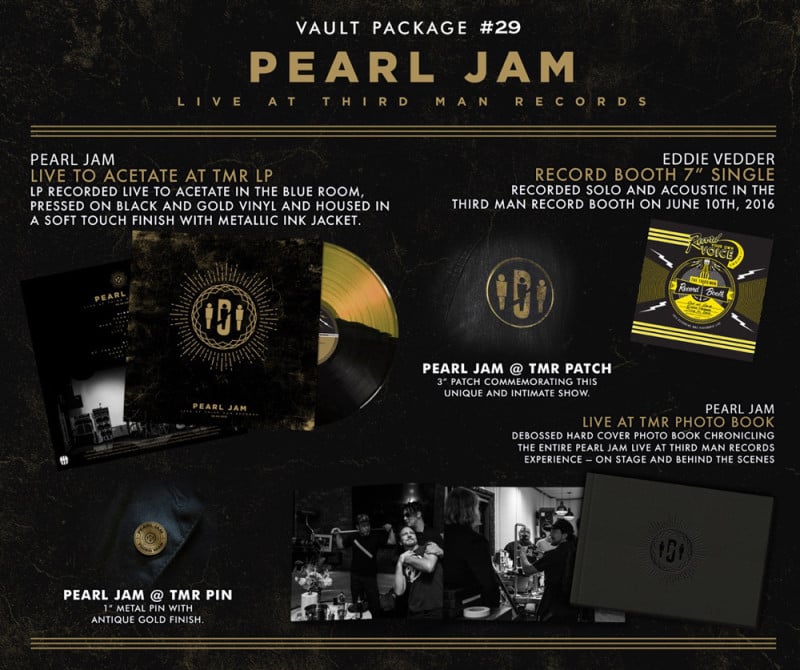 What more do you need to say about this vault package. It is Pearl Jam! All the details from Third Man are below. You can sign up HERE.
From Third Man: "On June 9th, 2016, Third Man Records was humbled to welcome Pearl Jam for a performance in our Nashville Blue Room live venue. Kept secret until the absolute last moment, the crowd of only 250 included lucky Ten Club members, mayors, NBA superstars, country music royalty, and possibly even a few stowaways. To call it a "warm-up" for their headlining set at Bonnaroo two nights later would be to vastly undervalue the evening. The band tore through a clutch collection of songs that spanned both deep cuts and fan favorites. A classic like "Deep" from Ten sits comfortably next to "Life Wasted" from their self-titled album Pearl Jam, and set-closer "Let Me Sleep" was originally recorded in 1990 (and was the band's first-ever Ten Club release). The highlight of the performance came when Pearl Jam invited Jack White and his guitar to the stage to join on a song that clocked in at over seven minutes and featured wild dueling solos between White and Mike McCready, this epic performance left every mouth in the audience agape and every face on stage all smiles. Those seven minutes were truly some of the most memorable and historic in seven years since the Blue Room opened its doors.
All this said, it should come as no surprise that this performance is the centerpiece of Third Man's 29th Vault package: a black-and-gold, split-colored vinyl version of Pearl Jam's set, recorded live direct-to-acetate and packaged in a stunning custom jacket, all soft touch coating and gilded gold metallic ink. While split-colors are normally only made available to attendees of the show, the opportunity to share this once-in-a-lifetime performance with the wide-reaching TMR and PJ world's was too good to pass up
The following afternoon Eddie Vedder entered Third Man Records' Voice-o-Graph recording booth and performed an arresting, solo acoustic song. Housed in a custom TMR Record Booth sleeve and pressed on clear transparent vinyl (just like the original) this disc captures a poignant moment for Vedder, and marks the event of yet another musical legend making exceptional use of the Third Man Recording Booth.
Third Man's accomplished in-house photographer Jamie Goodsell documented the entirety of the evening's events on his trusty SLR camera. These images have been compiled into a timeless photo book. This embossed, fabric-wrapped, 9" x 6" hardcover photo collection gives the viewer the ability to look behind the curtain, both into Pearl Jam and Third Man's worlds on a special night for both parties.
Rounding out Vault Package #29 are a 1" round metal lapel pin utilizing the custom Pearl Jam/Third Man mashup logo (printed onto silk-screened posters and complimentary beer koozies used that fateful night) in addition to a 3" circular patch of the same design, featuring gold thread and just begging to be sewn onto your motorcycle leather, denim vest, varsity jacket, backpack, wedding gown, pillowcase, coffin lining, underwear, etc, etc…
For this Vault Package #29 ONLY, all members of Pearl Jam's Ten Club have received a SINGLE-USE coupon code entitling them to $15 off the usual cost of the package. Ten Club members active as of 6/30/16 have been sent their unique code as well as instructions to subscribe. Do NOT subscribe using this product if you are a Ten Club Member. Refer to the information in the e-mail you received."

Online Music Magazine: Independent Music Reviews, Vinyl Spotlights, Music News, Videos, 7-inch record features + more!
Latest posts by Fire Note Staff (see all)
Please follow and like us: