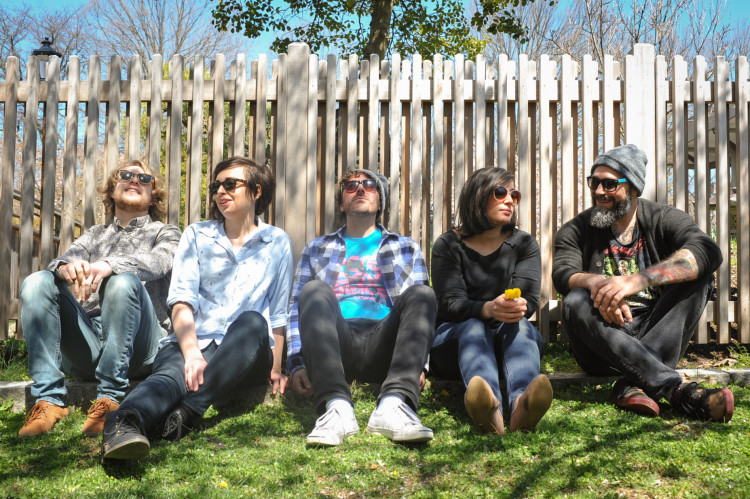 Today's track premiere spotlights the second single from Bethlehem, PA band VoirVoir (pronounced v-wah v-wah). The quintet is set to release their debut, There Are No Good Goodbyes, on July 15th from our good friends Fleeting Youth Records. VoirVoir is all about delivering intense vocals, providing rock out guitar at the right moment and lyrically challenges us to all do better.
"Stupid For Now" follows this theme as lead singer/guitarist Matt Molchany reflects on the track's history: "Stupid For Now" is actually the very first song April and I wrote and played together. This first song of ours was about feeling doomed to repeat mistakes and trying to become self-aware enough to stop yourself, or at least laugh at how imperfect you are. The whole process felt like a vacation– we discovered how much we loved writing together, even if the subject matter was self-critical and cautionary."
This track definitely succeeds because of their connection, as you can feel the emotion pour out of the song with its very Built To Spill type structure and sweeping sound. Make sure you listen right up to the end as the track intricately winds down in style and will have you quickly hitting replay. You can pre-order There Are No Good Goodbyes right now at Fleeting Youth HERE where you can grab the album digitally or on a limited Pro-dubbed white ink on purple-tint cassette tape with full-color 3-panel j-card.

VoirVoir Facebook
VoirVoir Twitter
Fleeting Youth Records

After spending the early 90's managing a record store, the mid to late 90's producing alternative video shows and 00's blogging about the music scene Christopher Anthony is always ready to hear new music.

Latest posts by Christopher Anthony (see all)
Please follow and like us: