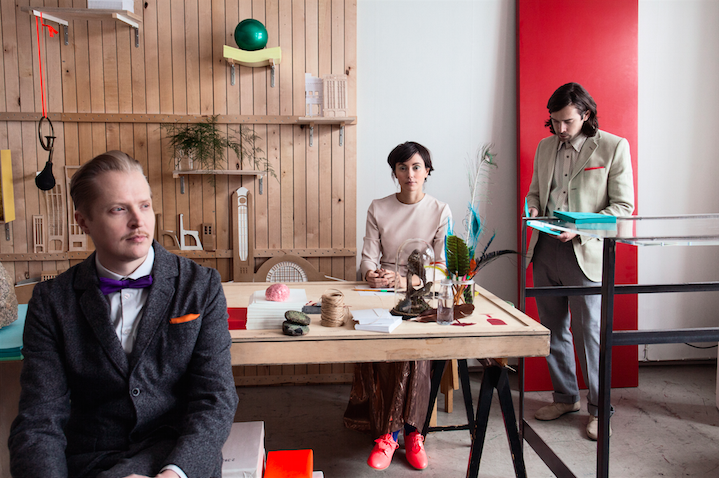 Today's exclusive album stream of The Long Lost Friend (Special Edition Disc 2) is from Finland's Husky Rescue. The ambient electronic pop band originally released their fourth album on El Camino Records back in 2013 but are re-releasing the record this Friday on Catskills Music with this featured second disc that contains remixes and some spaced out instrumental bonus recordings.
These hypnotic beats have already accompanied a New York exhibition by Finnish born designer/illustrator and long-standing Husky Rescue collaborator Kustaa Saksi, so it seemed only appropriate to get the music out to fans. The recordings also represent a new era for Husky Rescue as the original Long Lost Friend recording, featured member Johanna Kalén which had to leave the band for health reasons. This special edition second CD contains Husky Rescue's most recent work from the now duo of Marko Nyberg and Antony Bentley.
This record may not appeal to every indie fan out there but Husky Rescue have been around since 2002 and that experience plays out on The Long Lost Friend. Also, if the instrumental tracks are not your thing make sure you move on down, as the last half of this record is back to Husky Rescue's gliding mood music driven by Kalén. There are also two excellent remixes from the original album here that are highlights, especially the deconstructed "Tree House."
Enough talk – enjoy the exclusive album stream below! You can also check out Disc 1 streaming over at Austin Town Hall HERE.

Husky Rescue Website
Husky Rescue Facebook
Catskills Music

After spending the early 90's managing a record store, the mid to late 90's producing alternative video shows and 00's blogging about the music scene Christopher Anthony is always ready to hear new music.

Latest posts by Christopher Anthony (see all)
Please follow and like us: