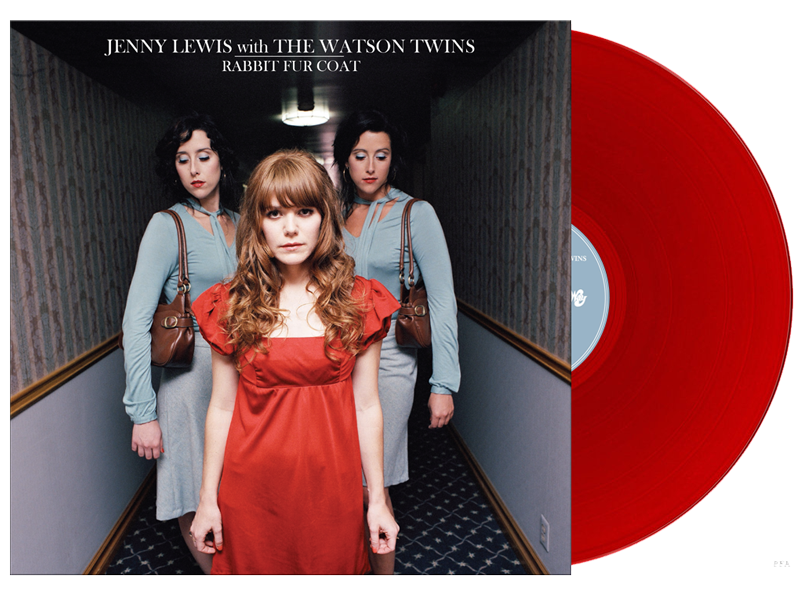 Here is a record that typically goes for some top cash on eBay. Believe it or not, Jenny Lewis will be celebrating Rabbit Fur Coat's 10th anniversary on January 26, 2016. This is her debut solo record with the Watson Twins which includes a fun cover of the Traveling Wilburys "Handle With Care."
There is no pressing information about numbers for the red vinyl but it comes with all-new gatefold packaging and never before seen photos by Autumn de Wilde. The record has also been remastered and includes a digital download. There are several bundles that include a t-shirt but you can order a copy of the vinyl HERE.
Lewis will embark on a tour with The Watson Twins, along with very special guest, M. Ward, just as she did ten years ago, in support of the release. Tickets go on sale September 25th and 26th at Ticketmaster.com.
Jenny Lewis' upcoming tour dates are as follows.
09/24/15 – Marfa, TX – El Cosmico Transpecos Festival of Music and Love
10/11/15 – Las Vegas, NV – The Chelsea at The Cosmopolitan w/ Neil Young
10/13/15 – La Jolla, CA – Rimac Area at UCSD w/ Neil Young
01/29/16 – Los Angeles, CA – The Cathedral Sanctuary at Immanuel Presbyterian Church*
02/03/16 – New York, NY – The Beacon Theatre*
02/06/16 – Nashville, TN – Ryman Auditorium*
* w/ The Watson Twins and very special guest M. Ward

After spending the early 90's managing a record store, the mid to late 90's producing alternative video shows and 00's blogging about the music scene Christopher Anthony is always ready to hear new music.

Latest posts by Christopher Anthony (see all)
Please follow and like us: