Radkey


Dark Black Makeup
+180 Records [2015]


Fire Note Says: Radkey's full-length debut is fast and furious.
Album Review: Beware the speed when listening to Radkey's debut album, Dark Black Makeup. I found this out the hard way when recently traveling down the highway. The album was blaring in my car and within seconds I saw the speedometer tell me I was going 87 miles per hour. It did not feel like I was speeding; in fact, I had the urge to go even faster.
Radkey's youth propels that sense of speed and disregard for safety. The three brothers from Missouri traffic in punk rock, with an emphasis on rock. After two EP's their first LP is all adrenaline and adolescent angst. My favorite track remains "Romance Dawn," the breakout from their most recent EP Devil Fruit. Contrary to what I found on that EP, Dark Black Makeup has the goods through most of its 13 tracks.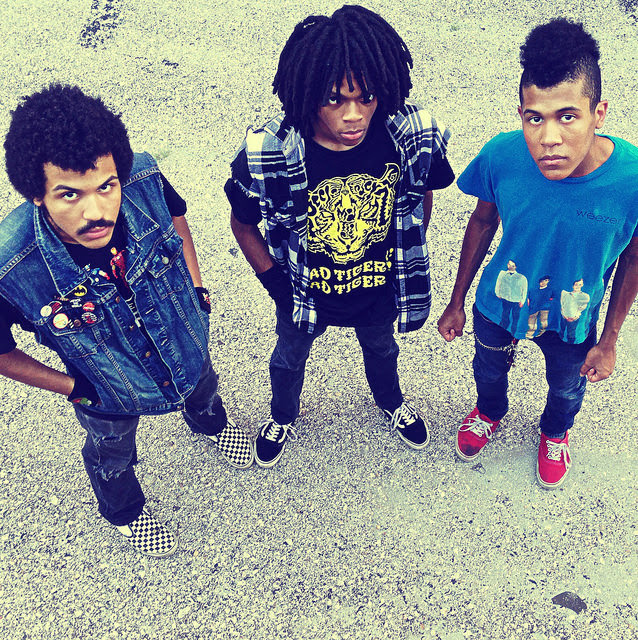 The title track is a funny take on "kids these days" from actual kids these days. Singing about teens wearing their "capes and their dark black makeup," I get the sense that Radkey would fit right in with that crowd. It's refreshing to hear rock music from an often marginalized group, one who makes no excuses for who they are. It helps that the song rocks in the hardest way.
"Le Song" is the title of a song on Dark Black Makeup. It is not a hushed ballad that you'd expect to hear in a Parisian restaurant. It's the punkiest of the track list with screamed Na Na Na Na's and terrifying guitar riffs. Almost every song on this album has a kickass moment; those primal shouts on "Le Song" are one but so is the funky and syncopated interlude on "Best Friend." Radkey shows a lot of promise, and delivers on that promise here on their full-length debut. For a guy who enjoys his punk in small doses they made me a believer.

Key Tracks: "Romance Dawn" / "Le Song" / "Dark Black Makeup"
Artists With Similar Fire: Black Flag / The Ramones / Misfits
Radkey Website
Radkey Facebook
-Reviewed by Matthew Heiner

I appreciate being able to write for The Fire Note, as it gives me an excuse to keep up with what's happening in new music.

By day I am a dad and a psychologist; I often use music as a way to connect with both my kids and my clients. One of my proudest moments as a father was when my 12-year-old daughter told me of her undying love for Radiohead.

Latest posts by Matthew Heiner (see all)
Please follow and like us: