Spock's Beard


The Oblivion Particle
Inside Out Music[2015]


Fire Note Says: Album number twelve finds Spock's Beard finally settling into their own skin.
Album Review: Since Prog legend Neal Morse left Spock's Beard in 2002 they have been struggling to find an identity. For four albums after that major defection, drummer Nick D'Virgilio, in true Phil Collins fashion, took over singing duties (which was all the stranger as D'Virgilio replaced Collins in Genesis for their wrongly maligned swan song LP, Calling All Stations. Weird.) Then, in 2011, he too quit The Beard to focus on his Cirque du Soleil band duties. 2013's Brief Nocturnes And Dreamless Sleep found the band with a new singer, Enchant's Ted Leonard. It was a good first step in re-establishing the band as a top tier Prog act. The Oblivion Particle goes even further as Leonard has found his voice within the band. The same holds true for Jimmy Keegan on drums. He was elevated to full member after D'Virgilio's departure after years as a touring member and sounds entirely locked in this time around.
But it's the three original members who all turn in their best performances since the Morse days. Guitarist Alan Morse (Neal's brother) has always been underrated but here he puts on a clinic. Keyboard player Ryo Okumato has often been too playful, cheesy and/or just plain odd in his patch selections. It seems he's gotten more comfortable with traditional Prog keyboards: piano, Moog, mellotron – you know, the good stuff! Special mention must be given to Dave Meros on bass. If there's an MVP on this record it is Meros and his Squire-like bass lines and exquisite tone. All together the band sounds energized and with expert production from Morse, longtime collaborator John Boegehold and producer-of-choice for many in the genre, Rich Mouser (Transatlantic, Imperial Teen, Neal Morse), The Oblivion Particle probably has the best fidelity of any album you'll hear in 2015.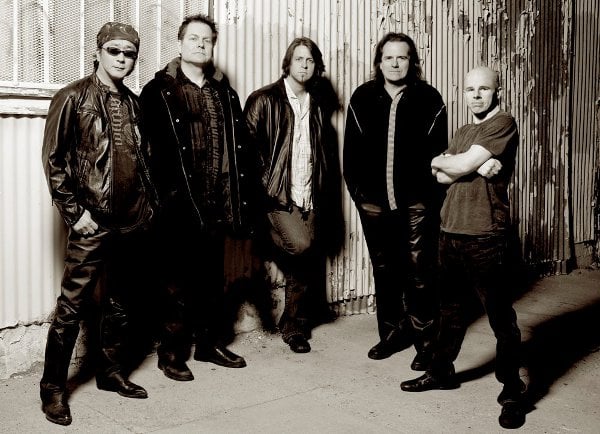 Then there are the songs, well one in particular. It all revolves around the guy on the album cover in some dingy workshop. I assume he is the protagonist in "Bennett Built A Time Machine" and it is possibly the best tune Spock's Beard has ever written and they obviously knew it judging by the artwork. As hackneyed as the concept may seem, it's handled with pathos and nary a shred of irony. Keegan sings this one and I'd say if they ever need a fourth lead singer they have him already in the band. "Stocks to buy/Girls not to date." We've all been there and the universal message really connects in a way this band rarely, if ever, has. "Unmake mistakes/Unseal his fate." Man, this is good stuff. Halfway through, the song makes a serious left turn into completely unexpected Pink Floyd territory. And that's the thing about this record. Every time you think they've settled into an accessible ELO groove here comes some Yes. Or you get a Queen sounding tune and – BAM! – they go all Genesis on you. None of it feels forced and all of it works.
This is an album that definitely requires repeat listens to fully grasp – with the exception of that damned time machine song. If it weren't for that remarkable piece I doubt I would have taken the time to let all the moving parts gel in my mind. That is why "Bennett" is the only song I'm singling out in this review. Yeah, I could talk about the soaring melody in "Hell's Not Enough" or the brilliant Gentle Giant homage during "The Center Line" but if that one central, devastating track doesn't do it for you than Spock's Beard just isn't for you. That would be a shame because after years of searching in the post-Morse years they have found the magic again. Eureka!
Key Tracks: "Bennett Built A Time Machine", "Hell's Not Enough", "The Center Line"
Artists With Similar Fire: Yes / Genesis / The Flower Kings
Spock's Beard Website
Spock's Beard Facebook
Inside Out Music
-Reviewed by Scot Lade
Scot is a classically trained guitar player who has played in such legendary Florida bands as Disorderly Conduct, Foul Existense (sic) and, most recently, wedgepiece. He currently resides in Bellefontaine, Ohio.
Latest posts by Scot Lade (see all)
Please follow and like us: