The Sword


High Country
Razor & Tie Records [2015]



Fire Note Says: The Sword return, slashing in several different directions.
Album Review: Ever since battling the cover of The Sword's "Freya" in video game Guitar Hero 2, I've found myself hooked by the Austin, TX-based band's sound. Picking up both 2006's Age of Winters and 2008's Gods of the Earth helped shaped my tastes and the way that I listen to modern metal (also included in that group are Mastodon, Baroness, and High on Fire). With the release of 2010's conceptual Warp Riders my interests cooled a bit, only because I wasn't as taken by the hooks. 2012 brought the release of Apocryphon (meaning "Secret writing"), and while that album did bring more hooks, it also felt like more of the same. The Sword's fifth studio album, High Country aims to add an interesting variety to The Sword's metal formula.
Three years in the making, High Country could almost be classified as a southern rock/metal album. That's no slight towards The Sword—there are still some slight nods to Queens of the Stone Age and Corrosion of Conformity, as well as classic rock influences from acts like Thin Lizzy, Black Sabbath, and ZZ Top. To quote guitarist Kyle Shutt, "We've shed our old trappings and embraced a livelier, more upbeat approach to songwriting while still maintaining the vision we shared when we started this band over a decade ago. High Country has more flavors than any of our previous records, everything from folk to pop to boogie to straight-up rock." With that in mind, when it works, it works. Songs such as "Empty Temples," "Tears Like Diamonds," "Mist and Shadow," "The Dreamthieves," and "Ghost Eye" are all enjoyable—if somewhat underwhelming—fare. But when High Country goes wrong it's easy to tell. The song that opens the album, "Unicorn Farm"—questionable title aside—is a weird mix of synths and beats. The instrumentals, "Agartha," "Suffer No Fools," and "Sliver Petals" feel slightly half-baked and lacks cohesiveness, meaning the album's structure leaves something to be desired.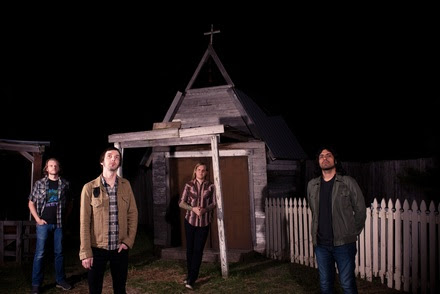 I could nit-pick a little more, but High Country is going to be a true fan divider. I can appreciate a band looking for new ways to spice up a typical formula. However, The Sword was starting to lose me with Apocryphon, and a lot of High Country feels like a loose, simplified, cutting room floor experiment. I'm only harsh because of the way Baroness, High On Fire, Electric Wizard, Mastodon, and Slomatics (seriously, check them out) have advanced the genre. These bands have all stayed consistent and important with each release. I'm really hoping The Sword doesn't continue to get dull—only time will tell.
Key Tracks: "Empty Temples" / "The Dreamthieves" / "Ghost Eye"
Artists With Similar Fire: ASG / Red Fang / ZZ Top

The Sword Website
The Sword Facebook
Razor and Tie Records
-Reviewed by Christopher Tahy

Along with TFN, Christopher Tahy writes for several music publications and has a modest (but growing) vinyl collection that spans genres and generations, while being a guitarist at heart. He enjoys the Dayton music scene and can never turn down a great rock riff!

Latest posts by Christopher Tahy (see all)
Please follow and like us: