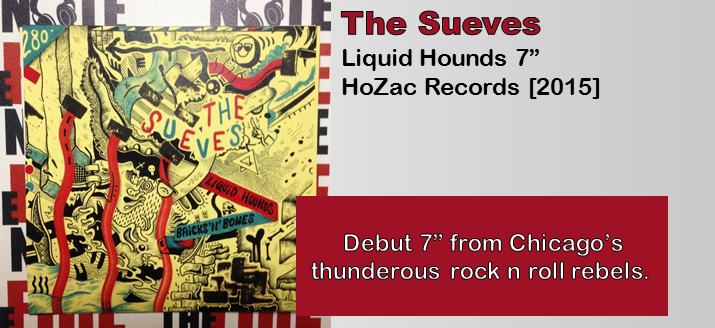 Here is the debut 7" from Chicago's thunderous rock n roll rebels The Sueves. The band offers up a very vesical and raw garage punk rock that keeps you going with their electric energy. The group reminds me some of the early material from Spokane, Washington's, The Makers that were on the great Estrus Records back in the 90's.


The A-side, "Liquid Hounds," is a great first taste of The Sueves, as they rev you up with a minute of guitar work before the vocals of Joe Schorgl gets things completely rolling. His somewhat distant sounding voice stays just below the surface of the music as the guitar and bass riffs lead this four minute burner to a solid closing. The B-side, "Bricks and Bones," gives you more of this surging power and it is another keeper. What I like most about these two tracks from The Sueves is that it would be easy to cut them short but instead the band really works hard and builds much longer song structures that I feel raises the bar!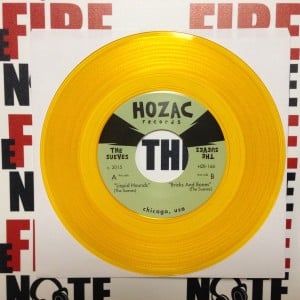 The jacket has art on both sides and folds together. The gold variant of this record is out of 100 and the back sleeves are hand-numbered. You could originally get this version through HoZac's mail-order list but if they are all gone there is a black variant out of 300 that is still available.
The Sueves Website
The Sueves Facebook
HoZac Records
-Feature by Christopher Anthony

After spending the early 90's managing a record store, the mid to late 90's producing alternative video shows and 00's blogging about the music scene Christopher Anthony is always ready to hear new music.

Latest posts by Christopher Anthony (see all)
Please follow and like us: