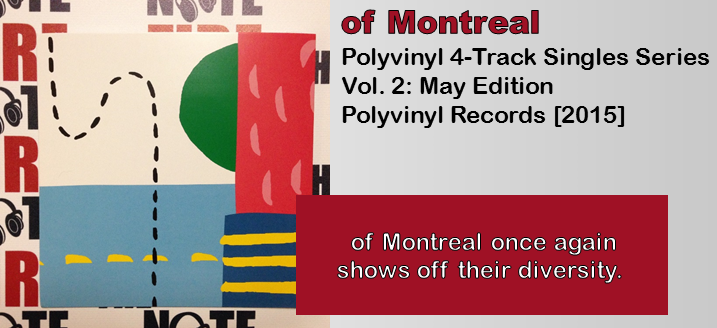 Last year, Polyvinyl Records had the cool idea to send around a Tascam 4-Track cassette recorder and capture some unique artists' recordings with this simple setup. Polyvinyl then released the output as a monthly 7-inch series. Some of the highlights from the 2014 series included 7-inches from Cloud Nothings, Mikal Cronin and Thao & the Get Down Stay Down. Well, the 2015 series has already had a strong start with offerings from Crooked Fingers and Deerhoof as the May edition brings 2 new tracks from of Montreal.


The A-side, "Pariah Conscience," is a surprising mid-tempo rocker from Kevin Barnes with its strong pounding skins that would actually fit on a nice garage compilation with the likes of King Tuff and Ty Segall. It is a side that I have not heard from of Montreal in some time and once again just highlights the many talents of Barnes. The B-side here, "Windowsucking," is much more what I would expect with this release from of Montreal. It lets the weird out, as its quiet strumming sets you up thinking a 4-track acoustic number until the shaking psychedelic reverbish vocals carry throughout the just over 2 minute track.


The packaging on volume 2 has been much more colorful as the sturdy cardboard jacket comes with similar abstract cover artwork while the back is much more business-like with the track list. The vinyl color for this series has also moved away from the Volume 1 clear to different selections of color and the May Edition is the pictured solid green. The subscription to the series is limited to 1000 memberships and includes a custom designed box for the twelve 7″s. They also each come with a download. The series is still available HERE so if interested – go for it as the next months will bring new material from Kishi Bashi, David Bazan, Ducktails (Real Estate) and The Dodos.
-Feature by Christopher Anthony

After spending the early 90's managing a record store, the mid to late 90's producing alternative video shows and 00's blogging about the music scene Christopher Anthony is always ready to hear new music.

Latest posts by Christopher Anthony (see all)
Please follow and like us: