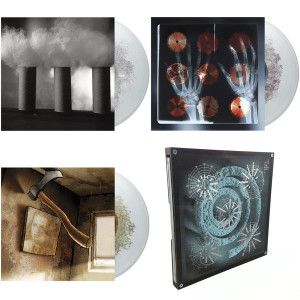 Dumb Numbers is back with a triple 10″ box set and they brought friends. The split series features new music from Dumb Numbers along with David Lynch, Melvins, and David Yow (Jesus Lizard).
The release is limited to a one-time pressing of 975 hand-numbered copies, packaged within a custom wooden box set, with screen-printed art by Mackie Osborne. The first 275 copies are exclusively available to Joyful Noise VIP Members on clear vinyl w/ "haze" of gold, silver, and oxblood colors.
The digital release is available on September 25th, with vinyl coming on Halloween. You can pick up this nice looking set at Joyful Noise HERE.

After spending the early 90's managing a record store, the mid to late 90's producing alternative video shows and 00's blogging about the music scene Christopher Anthony is always ready to hear new music.

Latest posts by Christopher Anthony (see all)
Please follow and like us: