Teenage Guitar


More Lies From The Gooseberry Bush
Guided By Voices Inc. [2014]



Fire Note Says: Robert Pollard refines the Teenage Guitar formula, bringing stronger songs and adding a plethora of instruments.
Album Review: The debut Teenage Guitar record, 2013's Force Fields at Home, saw GBV frontman Robert Pollard getting back to his roots. Recorded at Pollard's home studio with minimal preparation and only occasional help from other musicians, it was an album that harkened back to Pollard's early 90s approach: record fast and loose, and limit production to hitting "Record" on the four-track. The result was a weird, sometimes sloppy but always intriguing collection of tunes. For the follow-up, More Lies from the Gooseberry Bush, Pollard has switched up his approach somewhat, but for the better: the record still has that charmingly ramshackle quality, but it's a bit more calculated, higher fidelity, catchier and more diverse—and this time Bob plays it all.
When you hit play, the first thing you notice is that this record is LOUD—the guitar crunch of opener "Go Around (The Apartment Dwellers)" threatens to tear your speakers to pieces, as Bob sings his patently cryptic (but always intriguing) lyrics: "Go around their huts / Go around the inside / Go around their dreams / Go around their electric knives." The next four tracks give you a good idea of the ground this record covers over its thirty-two minute runtime: "Spliced at Acme Fair" begins with an odd vinyl sample of a marching band leader crying out in German, the band starting up behind him, only to be cut off by Bob's 3/4 drum attack, which is quickly joined by distorted guitar and synth. "A Guaranteed Ratio" is, for my money, the album's best track, skittering drum machine and strong, melodic guitar wedded to an understated vocal that builds throughout the song—it reminds me of Tonics and Twisted Chasers in all the best ways. "Good Mary's House" is a wobbly piano ballad reminiscent of some of the weirder tracks on Force Fields At Home, while "Skin Ride" kicks up the distortion even more, with a repetitive hook that keeps itself lodged in your brain.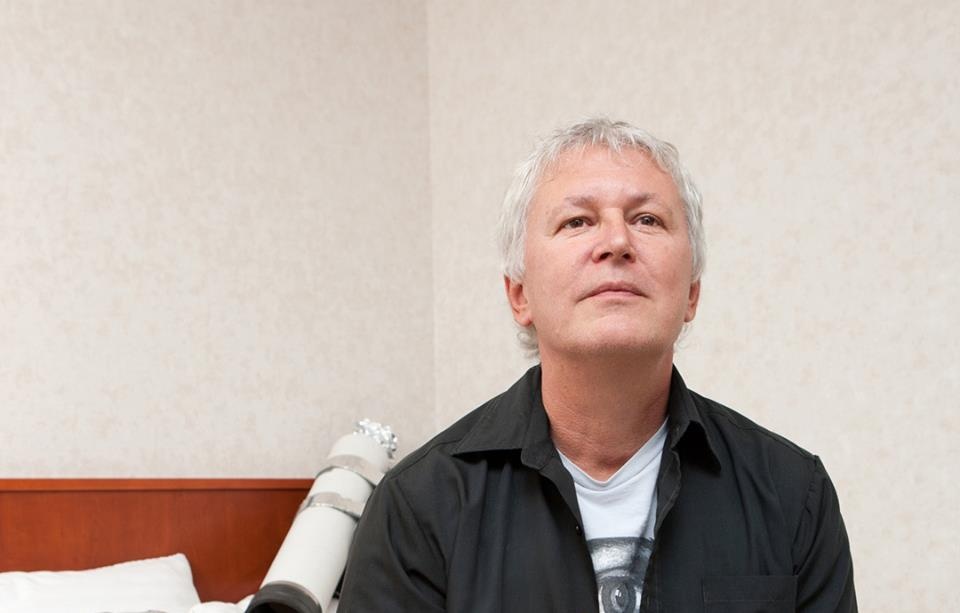 By the time "Skin Ride" ends, it's obvious that this record, if nothing else, is stronger melodically than Force Fields—the zany weirdness of that record is still here, but the songs are more developed and diverse. And the weirdness is still there, especially on "The Instant American," a track consisting of nothing but Bob's multi-tracked vocal melody and a recording of what sounds like a bunch of people at a party. But tracks like "Gear Op," which sounds like Bob channeling Led Zeppelin III and pre-glam Marc Bolan, and the episodic "Matthew's Ticker and Shaft"—while not totally different than anything Bob's done before—show a side of his songwriting style that might otherwise get obscured in the band setting of GBV or the polished instrumentation of his Todd Tobias-produced solo albums. Almost every song has something memorable to offer—the demented opening laugh and menacing guitar riff on "No Escape," the repetition of the song title that becomes a part of the backing track on "Normalized," the atonal, detuned electric guitar experiments of "Birthplace of the Electric Starter"—it's one of those records where you really don't know what you're going to get from track to track, and it's exciting because of it.
And I'd be remiss if I didn't mention the epic final track, Bob's take on "A Year That Could Have Been Worse," a track he wrote but which was recorded solo by Mitch Mitchell as a GBV B-side for the band's latest record, Cool Planet. While Mitch's take was good, Bob's is the definitive version, booming drums and fuzzy guitar capping off the record in perfect fashion. With More Lies From The Gooseberry Bush, Robert Pollard has cemented what could have been just a one-off experiment as a rewarding alternative to GBV and his "solo" albums. Teenage Guitar is a little weirder, a little rougher around the edges, but takes more chances and rocks just as hard—here's hoping Bob lets this alter ego out of the house a little more often.
Key Tracks: "A Guaranteed Ratio" / "A Year That Could Have Been Worse" / "Gear Op"
Artists With Similar Fire: The Takeovers / Syd Barrett / Dinosaur Jr.

Robert Pollard Website
Robert Pollard Facebook
Guided By Voices Inc.
-Reviewed by Simon Workman

Simon Workman has loved rock n' roll ever since his dad made him Beatles and Beach Boys mix tapes as a kid. These days his musical interests have a wide range, though he's still got a strong connection to the music of the 60s and 70s. He lives in Dayton and is currently working on a PhD in English literature at the University of Cincinnati. You can follow him on Twitter and Instagram @simonworkman.

Latest posts by Simon Workman (see all)
Please follow and like us: