The Fresh & Onlys


House Of Spirits
Mexican Summer [2014]



Fire Note Says: House of Spirits wanders a bit, but finds its footing in solid songwriting and production.
Album Review: The Fresh & Onlys are a four-piece out of San Francisco, and while the band is often pigeon-holed as a "psychedelic" outfit who are part of the "new garage movement" (thanks Wikipedia), that description is a little disingenuous. While the band can certainly produce a "dreamy" or "trippy" vibe when they want to, my immediate reaction when playing their new album, House of Spirits, was "Hey, these guys kinda sound like The National." And even though not all of their tracks have that hazy, brooding quality—The Fresh & Onlys generally sound much more cheerful than Matt Berninger does—that familiar quality never really goes away, which is both the blessing and curse of House of Spirits.
The band covers a lot of ground over the album's ten tracks, but at the center of their musical identity is lead singer Tim Cohen's vocals and several variations of echoing, cavernous guitars—guitars that can sound, you guessed it, alternatively "dreamy" and "trippy," but also ominous, jangly, and several other adjectives in between. While that sounds like a recipe for lots of diversity, and it is to an extent, there's not much diversity within each track once you absorb it; once you hear the first thirty or forty seconds of a song, you pretty much get the idea. That said, the band's songwriting is good enough to keep the album afloat—nothing here is going to blow your mind, but it's not going to make you reach for the stop button either.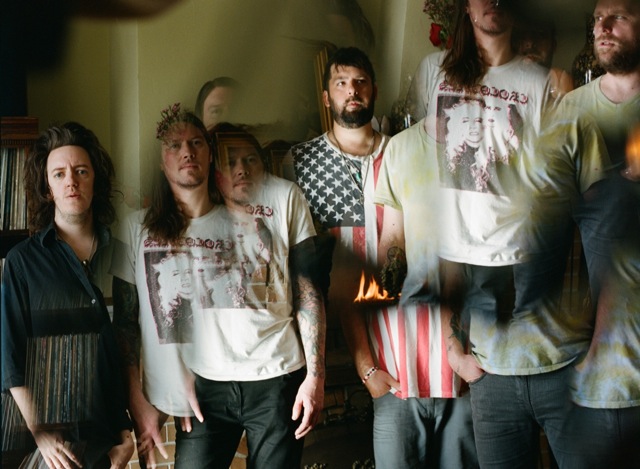 "Home is Where?" starts things off on the right foot: piano and organ support Cohen's catchy vocal melody before giving way to trebly distorted guitars and a steady backbeat. "Who Let the Devil" is probably the most National-like track here, with Shayde Sartin's throbbing bass accompanied by sparse processed guitar strums and a moody lead vocal. "Candy" is an interesting highlight late in the album, beginning with Kyle Gibson's drum rolls establishing a mellow groove that works well with the tinges of brass that come in at the end; meanwhile, closer "Madness" is an odd but effective pairing of electronic percussion, subtle guitar and keyboard textures (courtesy of Cohen and second guitarist Wymond Miles), and distorted samples of what sounds like guitar feedback. There are little left turns all over the place—the desert-rock of "Animal of One," the punky pop of "Hummingbird," or the almost MBV-style backing track on "Bells of Paonia"—but while individually each track can be an intriguing diversion, over the course of an album things can seem a bit directionless at times.
House of Spirits is a lot like its name would suggest—each track is like a different room in the same house, each with its own "spirit." If you don't mind wandering around a bit, you'll probably find a lot to enjoy—there will just likely be a track or two that you don't dig quite as much. And that's OK: there's plenty to enjoy on House of Spirits, from the solid songwriting to the shifting textures and consistent production. The band plays it somewhat safe, but they play to their strengths—strengths that are impressively wide-ranging.
Key Tracks: "Home is Where?" / "Who Let the Devil" / "Candy"
Artists With Similar Fire: The National / Mikal Cronin / Grizzly Bear

The Fresh & Onlys Website
The Fresh & Onlys Facebook
Mexican Summer 

-Reviewed by Simon Workman

Simon Workman has loved rock n' roll ever since his dad made him Beatles and Beach Boys mix tapes as a kid. These days his musical interests have a wide range, though he's still got a strong connection to the music of the 60s and 70s. He lives in Dayton and is currently working on a PhD in English literature at the University of Cincinnati. You can follow him on Twitter and Instagram @simonworkman.

Latest posts by Simon Workman (see all)
Please follow and like us: