The Both


The Both
SuperEgo Records [2014]



Fire Note Says: Aimee Mann and Ted Leo join forces and form The Both.
Album Review: The music fan likes nothing better than a unique musical pairing. Over the years we have seen full length records from Isobel Campbell and Mark Lanegan, Robert Plant and Alison Krauss, Pete Yorn and Scarlett Johansson and The Roots with Elvis Costello to just name a few. Everytime this type of collaboration takes place there is both caution and excitement as you just are never sure how it is going to turn out. It also can be especially concerning if you really like both artists. That is the case before us here with The Both or better known as the Aimee Mann and Ted Leo collaboration.
Aimee Mann of course has a classic resume that finds her Til Tuesday days now 32 years old and a solo career that is filled with memorable records like the Magnolia soundtrack and Bachelor No. 2. Ted Leo is known best for his 15 year indie guitar rock with his always solid band The Pharmacists on Matador Records. I will fully admit that when these two toured together last year it was a bit of a head scratcher because I just didn't see how their styles together made sense. Well, the self-titled debut of The Both now supplies the answers.
Opening track, "The Gambler," kicks off like a trademark sounding Ted Leo song with a subtle but confident guitar riff and his vocals rolling smoothly into the music. Mann soon accompanies him on some mirrored lines as both of them stay in their expected range. This first track shows promise and proved that this combo was a better idea than I originally expected. The song keeps its slower smoky pace but works. "Milwaukee" follows and it highlights what I thought The Both would sound like. It is a quick foot tapper with Mann's smooth delivery being pushed a bit harder than her normal material while Leo gets plenty of guitar time that includes several great runs throughout the track while both artists get lead mic time. You can jump in with the hand claps on this one and it works for them. "Volunteers of America" is another one of these upbeat mid-tempo songs that combines their witty songwriting with a creative and catchy song structure. It has both a retro feel but could soar on current college radio.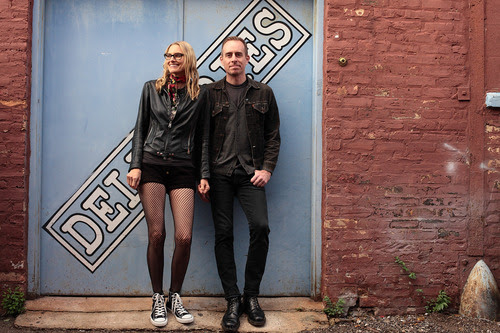 The mid-tempo pace for The Both stays really consistent throughout the record which is its Achilles heel because I never thought that Mann could match the politically charged rush that Ted Leo is known for. They spend plenty of time with the duel lead vocals and mirrored lyrics but on a song like the folkish "Hummingbird," Mann seems at home while Leo sounds a bit uncomfortable with the pace and material. "Honesty Is No Excuse" almost hits a home run as Mann completely jumps in vocally and sounds pure while the song slowly drops into a fuzzy guitar moment that sounds fresh. The problem is that the track also has these lifeless hand claps and "yeah yeah yeah" moments that don't come off as sincere.
The Both is a group that I hope maintains their relationship after this is over because there is no questioning the talent of Aimee Mann and Ted Leo. They come close to hitting the mark here but without pushing each other a bit more it just comes off as good instead of great as it never leaves the mid range of expectation. With more time together I believe that this collaboration works and there is only upward mobility for The Both.
Key Tracks: "Milwaukee", "Volunteers of America", "You Can't Help Me Now"
Artists With Similar Fire: Belle And Sebastian / The Pains Of Being Pure At Heart / The New Pornographers
The Both Website
Aimee Mann Website
Ted Leo Website
SuperEgo Records
– Reviewed by Christopher Anthony

After spending the early 90's managing a record store, the mid to late 90's producing alternative video shows and 00's blogging about the music scene Christopher Anthony is always ready to hear new music.

Latest posts by Christopher Anthony (see all)
Please follow and like us: