Doug Tuttle


Doug Tuttle
Trouble In Mind Records[2014]



Fire Note Says: Former MMOSS guitarist takes off on a solo trip back to the psychedelic sixties.
Album Review: New Hampshire band MMOSS put out two albums and called it quits. About that same time Tuttle and girlfriend (and fellow MMOSS member) Rachel Neveu also broke up. It's hard to separate these events from the songwriting and overall mood of this, Tuttle's debut solo record.He is clearly a talented guy and is not afraid to let his Cream-era Clapton show. Yes, there are actual guitar solos here. There are also lots of effects, radically panned stereo separation, mellotron, found sound and plenty of backward masking. With all the psych revivalists around these days one really has to put something special out to stand above the crowded field. Unfortunately, not enough of this sticks with you and after a while Tuttle's hushed, almost there vocals tend to disappear.
Don't get the wrong idea: there's plenty of hazy goodness lurking within the albums eleven tracks. Some of the better songs include "With Us Soon" and its infectious melody and "Forget The Days" which gives early Of Montreal a good run for their money. Later we encounter the Piper At The Gates Of Dawn inspired "Sewn Day." Here the mighty mellotron gets full exposure, adding texture and transporting the song to other realms. Sadly, there are some bummers mixed in there too. "I Will Leave" has a Byrds-like jangle-pop thing going on but misses the mark. "Turn This Love" features a really long guitar solo that feels even longer.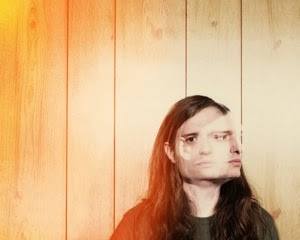 Overall there is a creeping sameness to many of the tracks and that impression is not helped by the same drum fills being used every four measures or so. These are small gripes, I admit, but for Mr. Tuttle to take his psych journey to the next level they will need to be addressed at some point. His vision is too laser focused at this juncture to create a great album. Like many of the sixties bands he is influenced by, perhaps he would be a better singles artist – a little bit goes a long way. As stated earlier, with the Tame Impalas and UMO's of the world out there it is becoming really hard to measure up to those lofty standards. And to his credit, he's not really trying to, he's doing his own thing.
Tuttle is on tour in support of this album and I would be very interested in hearing how these songs translate live. Something tells me that they might be bigger sounding. In the context of this album they feel somewhat inconsequential. Whatever the future holds for him he has released a solid debut and like many debuts it suffers from a minor identity crisis. Once he has found his true authentic voice there's no telling how far he can take his magic carpet.
Key Tracks: "Forget The Days", "With Us Soon", "Sewn Day"
Artists With Similar Fire: Kurt Vile / Pond / Quilt

Doug Tuttle Facebook
Trouble In Mind Records
-Reviewed by Scot Lade
Scot is a classically trained guitar player who has played in such legendary Florida bands as Disorderly Conduct, Foul Existense (sic) and, most recently, wedgepiece. He currently resides in Bellefontaine, Ohio.
Latest posts by Scot Lade (see all)
Please follow and like us: