Mikal Cronin/Superchunk Split: "Takin' It Easy"/"Good Morning" [7-Inch Feature]

Mikal Cronin/Superchunk


"Takin' It Easy" b/w "Good Morning"
Merge Records [2014]


Late last fall, Merge Records announced Or Thousands of Prizes which is a subscription-based, bonus-filled box set celebrating Merge Records' twenty-fifth anniversary. Merge also did a really cool thing and donated all the proceeds to Oxfam America. Part of this box set includes 7-inch singles that will mostly be splits by Merge artists. Here is number one and it is worth every penny as it features Mikal Cronin and Superchunk.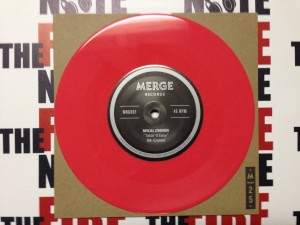 The A-side, "Takin' It Easy" is from one of our favorite artists Mikal Cronin. It sounds like you think it should as it smoothly jangles along with quality lyrics and a big hook as Cronin's vocals hide slightly below the instruments. The B-side, "Good Morning" is an excellent upbeat rocker from Superchunk. It absolutely is not a throwaway and continues Superchunk's indie rock story. As Mac sings out about waking up his foggy head the song acts like a true shot of caffeine.


The jacket is a special 25 years cardboard design for this series. Very plain and old school with a nice silver M25 stamp in bottom, cut-out middle and some art squiggle cut-outs on the back. The 7-inch vinyl is a solid lighter red and limited to the series as the singles are not available individually or sold in stores. The series itself is sold out so if you want a copy you will need to search one out in the second hand market.
Superchunk Website
Mikal Cronin Website
Merge Records
-Feature by Christopher Anthony

After spending the early 90's managing a record store, the mid to late 90's producing alternative video shows and 00's blogging about the music scene Christopher Anthony is always ready to hear new music.

Latest posts by Christopher Anthony (see all)
Please follow and like us: