The Men


Tomorrow's Hits
Sacred Bones Records [2014]



Fire Note Says: The Men continue to slash and burn with their chaotic fifth album.
Album Review: And here I was about to give up on The Men. Last year's New Moon left me cold. It was just too rustic and countrified for my liking. Then they released an EP recorded around a campfire which I deemed unlistenable. Imagine my surprise, then, that Tomorrow's Hits has been really hard for me to stop listening to. Call it a return to form – which it kind of is – if you like. I will simply enjoy the beautiful noise this Brooklyn band creates. This record finds the sweet spot between Leave Home's punk wall of sound and New Moon's wider sonic vocabulary. In essence, it approximates career high point Open Your Heart with a keener ear towards drunken blues a la Exile On Main Street or the roadhouse debauchery of Foghat. There's a lot of swing in their step and they are, as always, fearless in letting their boogie show.
Stones-like mid-tempo rocker "Dark Waltz" kicks things off with The Men's typical swagger. It's the kind of song that The Replacements used to make. The fact that it isn't particularly dark nor in 3/4 time is irrelevant, I guess. I've never really deciphered what Nick Chiericozzi's world view consists of but I'm betting that drinking is a large part of the equation. The Men have been utilizing a three guitar attack since the addition of Kevin Faulkner in 2012 and this only adds to the impenetrability of The Men's sound. "Get What You Give" is another 70's indebted song that isn't too far from glam – albeit glam infused with post-punk. "Another Night" gives Titus Andronicus a run for their Springteen-loving money. This track is one of many with prominent horns throughout and it's a really good look for these guys. Elsewhere there is harmonica and a splattering of piano and organ. As near as I can tell, Tomorrow's Hits is using the dad rock template to create something identifiable and yet inarguably current.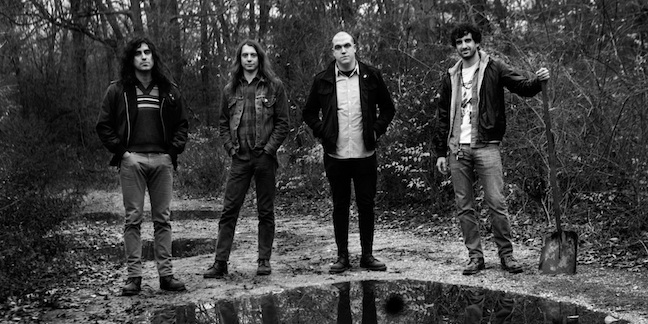 Bass player Ben Greenberg takes a turn at lead vocals on the rousing, uptempo "Different Days" and his approach doesn't alter the vibe much. No one in this band is an accomplished singer but that's not a reason to pass on them. But there are plenty of reasons to give them a try. And like all of their full lengths there is that one song that makes you stop dead in your tracks. Leave Home had "If You Leave", Open Your Heart had "Candy", New Moon had "Bird Song" and now we get the latest great song in their quickly expanding catalog – the crazed rave-up "Pearly Gates" which oddly serves as the first single. It's fast, noisy and a lot of fun. There's so much going on in the song's six plus minutes that it takes a few spins to sort it all out. Chiericozzi adopts his best Bob Dylan while the guitars, horns and drums all seem to spiral out of control. It's an instant classic.
There are still many rough edges this band has yet to sand down – either by choice or otherwise – and the high end studio used to record this album did little to push their sound into the mainstream. And then we encounter some songs which do recall earlier tracks (as has been duly noted by several reviewers already.) None of this diminishes the raw power The Men still harness. They have come a long way since their first self-released album. They still clearly worship at the alter of Neil Young and Crazy Horse but for my way of thinking that's no bad thing. This is a band with a terrific batting average and the depth of music history knowledge to steer the ship in any number of directions: shoegaze, alt-country, sludge, classic rock, post-punk, noisy garage rock – it's all there and it will be interesting to see where they go next. For now, five albums in, The Men have become an important band in a very short length of time.
Key Tracks: "Pearly Gates", "Dark Waltz", "Different Days"
Artists With Similar Fire: Titus Andronicus / The Replacements / California X

The Men Website
Sacred Bones Records
-Reviewed by Scot Lade
Scot is a classically trained guitar player who has played in such legendary Florida bands as Disorderly Conduct, Foul Existense (sic) and, most recently, wedgepiece. He currently resides in Bellefontaine, Ohio.
Latest posts by Scot Lade (see all)
Please follow and like us: