Augustines


Augustines
Caroline International [2014]



Fire Note Says: The band formerly known as We Are Augustines strip down more than just their name.
Album Review: Let me put this out there: the first album from (We Are) Augustines, Rise Ye Sunken Ships, was one of favorite records of 2011. That Dave Newfeld produced album got good reviews but was overlooked by just about everyone when it came time to put together year-end "best of" lists. It was modern yet harkened back to time when Indie Rock hadn't forgotten about the rock part. Now the Seattle-via-Brooklyn trio return to correct past slights. Currently on tour with Frightened Rabbit, Augustines look to raise their profile by streamlining their name – and their sound. Gone are the intricate Newfeld-inspired studio tricks. What's left is a batch of songs seemingly ready-made for stadium (or at least festival) sing-alongs.
The anthemic nature of lead Augustine Billy McCathy's songs has been evident since he and multi-instrumentalist Eric Sanderson plied their trade with Pela. But now the soaring choruses and "Whoa-Oh-Oh" backing vocals push into U2 or Coldplay territory. The sequencing here gives additional credence to that point of reference as several of the early songs bear the distinct mark of The Joshua Tree. After a short intro, "Cruel City" leads off and finds McCarthy aping The Edge with jittery delay guitar that sounds like "Where The Streets Have No Name." The aforementioned backing vocals go big – Arcade Fire, anyone? – while the song retains its charm and personality. Likewise, "Nothing To Lose But Your Head" will have you checking the credits to see if Eno produced this one too. That work was actually performed by Peter Katis (Interpol, The National.) If nothing else, this is a beautifully recorded album.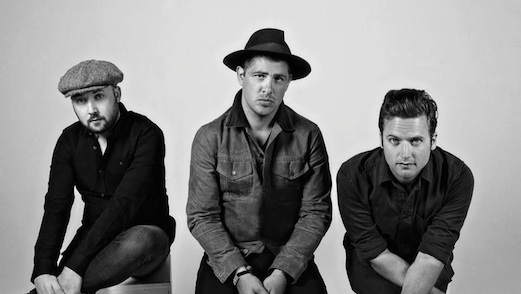 While early tracks swing for the fences, the momentum is (mercifully) snapped by piano ballad-cum-paean "Walkabout." McCarthy busts out a weird falsetto that had me wondering if this was a different singer for a minute. It's a tale of wanderlust as he recounts leaving New York via motorcycle and ended up traveling from Mexico to Alaska, only to be beckoned home again. Of course it builds from its humble beginnings – only to return to the quiet with a tacked on outro that feels a little forced. Pity, as it's one of the stronger tracks. The last really good song appears next, "Kid You're On Your Own." It's a fairly straight-forward rocker that belies the sense of aloneness inherent in the song's imagery: taxi cabs, empty cities, rainy streets. Augustines certainly know how to manipulate the listener into believing that this is really all very earnest stuff. And it may be just that. McCarthy's voice is a curious thing that does convey enough gravitas to convince. That it's ragged in a Springsteenian way definitely helps close the sale.
You can't call this a sophomore slum even though the hooks aren't as immediate; the melodies are more concise. There's an everyman quality to the album that was lacking from Sunken Ships. This record could establish them as a serious contender but more likely it will be lost in the shuffle. There need to be more bands like this: bands that wear their hearts on their sleeves without sounding like a bunch of cry babies. So if you're looking for some kind of cathartic experience with your Indie Rock, I think I've got the right band for you right here. Either way, it can be a lot of fun pretending that Augustines hit the big time and these songs are being sung by thousands of wasted fans at Reading or Leeds. But I bet they'd settle for Coachella.
Key Tracks: "Cruel City", "Kid You're On Your Own", "Walkabout"
Artists With Similar Fire: Frightened Rabbit / Boxer Rebellion / Band Of Skulls

Augustines Website
Augustines Facebook
Caroline International
-Reviewed by Scot Lade
Scot is a classically trained guitar player who has played in such legendary Florida bands as Disorderly Conduct, Foul Existense (sic) and, most recently, wedgepiece. He currently resides in Bellefontaine, Ohio.
Latest posts by Scot Lade (see all)
Please follow and like us: