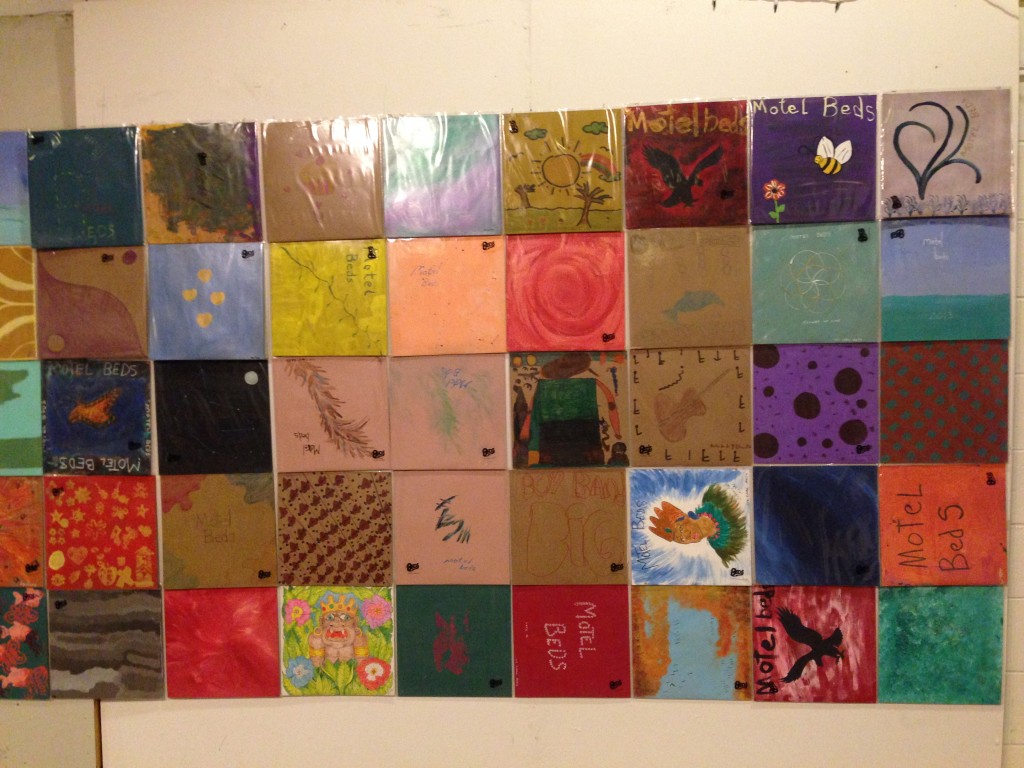 If you weren't at this event/show on Saturday night (Jan. 18, 2014), then you missed out. Why do I go with the whole show/event phrasing? Only because of the great idea that led to pairing together the entities of Misra Records, We Care Arts, and The Motel Beds. The "old" Yellow Cab building, a half art gallery/half venue, hosted two other groups (Good English and The Smug Brothers) along with The Motel Beds, and they all turned the night into a one of a kind experience for anyone smart enough to pick up their new rarity/catalogue compilation These Are The Days Gone By. Picking up inspiration from Guided By Voices' 1992 release Propeller (see GBV's "Propeller"), The Motel Beds worked with We Care Arts to make the first 500 LPs all one-of-a-kind. Each cover was individually hand-painted by the artists at We Care Arts, a non-profit dedicated to "changing disabilities into possibilities," and a portion of the proceeds from these first 500 went to benefit WCA.



It's funny because I wasn't going to originally write about this. With so many event notices, press releases, and interviews going around, there was more than enough information. You know what changed my mind? The three sisters who comprise Good English—people have to know about these ladies, who have so far released the Take Control EP and a full length entitled Radio Wires. Dressed in black, Good English were hell on heels until the last note of their set. Combining equal parts Joan Jett, Nancy Sinatra, and Sleater Kinney—with Gwen Stefani bubble gum pop to fill in the cracks (think Tragic Kingdom)—their set included the catchy as hell "Wicked Eyes," a sultry cover of Jefferson Airplane's "White Rabbit," the bouncy rock of "Moves Real Slow," the haunting angst of "The Road," and the intense sting of "A Day Wasted" among others. These three are the real deal, and if they keep heading down this path then a bright future awaits. Someone needs to sign these gals because they deserve it.

The Smug Brothers were up next, coming off a fresh release with their Strictly Triggers EP (a new full length, On The Way To The Punchline, is due next month. Delivering a classic lo-fi sound like only Dayton can, The Smug Brothers made for a good ramp-up to the main event. Introducing new bassist Larry Evans, the four piece ripped through tracks from their forthcoming LP, including the GBV-influenced "Investigative Years" and Our featured "Friday Fire" track "They Are Fluid" ( listen here).

To say that the Motel Beds killed it would be an understatement. Full of a lively energy the five piece had nothing but a good time for the entire hour and twenty that they were on stage. In keeping with the spirit of their new LP the Beds played a large selection from their catalogue. Their most recent studio release (and Fire Note favorite) Dumb Gold got an ample sampling with my personal favorite "Rattle, Rattle," newest studio single and best shout-along lyrics "Valentimes," the fantastically rocking "Smoke Your Homework," the very much appreciated "Dream Of Sleep," and the title-track—all were equally impressive. Other highlights included a swath of jokes (Green Eyed Lady anyone? How about the slight tease of Zeppelin's "Moby Dick?), and Tod was a fantastic Kelley Deal as he backed PJ on "Tropics Of The Sand." There was a noticeably fun and playfully intense "Surfjerk," and an ever-aloof PJ and the boys going through "Western Son" as well.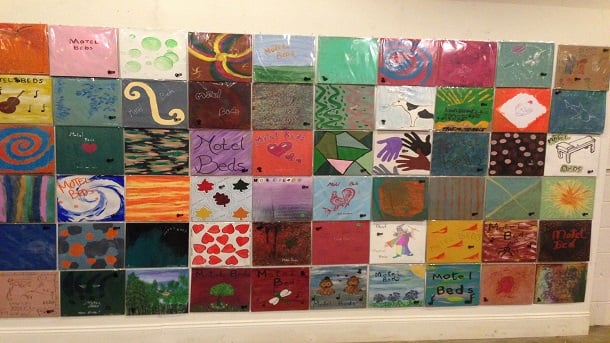 There are multiple reasons why the Motel Beds are picking up steam; having just been added to the Nelsonville 2014 festival line up, they're also writing new material for a release sometime this year. But in the present, Misra and all three bands should be happy about what they accomplished on Saturday. Not only was the music fantastic, but everyone had a once-in-a-lifetime experience and got an individual LP after a charitable donation. Saturday's events provided plenty of reasons to get excited—and that's all that any fan of art or music could ask for.
-Review by Christopher Tahy


Along with TFN, Christopher Tahy writes for several music publications and has a modest (but growing) vinyl collection that spans genres and generations, while being a guitarist at heart. He enjoys the Dayton music scene and can never turn down a great rock riff!

Latest posts by Christopher Tahy (see all)
Please follow and like us: