Epicycle


You're Not Gonna Get It
HoZac Records [2013]



Fire Note Says: Chicago area powerpop/punk band get the anthology treatment.
Album Review: File under: could have been big. Or three years of bratty suburban mayhem distilled into one really cool record. During their original incarnation Epicycle put out one LP and a handful of 7″ singles on their own label, Circkle. Unlike fellow Chicago bands Cheap Trick and The Shoes they never signed to a major. Indie bands in the late seventies were doomed to obscurit, ignominy and poverty. Luckily these guys hailed from the untra-rich suburb of Winnetka (remember the house in the movie Home Alone? That's Winnetka, Illinois.) It's not like they didn't have early suppoters though – among them Bruce Pavitt, editor of Subterranean Pop fanzine and, upon moving to the Pacific Northwest, co-founder of Sub Pop Records. Circkle also released the debut record from Identity Crisis – a band that featured Kim Thayil before he founded Soundgarden. So there are some interesting threads here but to focus on that is merely to support the original supposition: this band could have been big.
Starting out as a rowdy teen punk band in the mould of The Damned or The Dead Boys, their sound quickly became more powerpop. The shadow of Cheap Trick loomed large throughout Chicagoland at the time. Their shows were famously chaotic and a loyal following soon developed. The recording sessions, however, never delivered on the promise of their sparkling harmonies and truly memorable songs. Without the grit of punk nor the sheen of powerpop much of You're Not Gonna Get It kind of languishes in a no-man's land between those poles. But in spite of that many of the songs presented here are pretty great. The album opens with three of their strongest tunes – starting with the title track which has an Americanized Buzzcocks feel to it. "Hardcore Punk" is more Midwest powerpop than punk with its tight Kinks style harmonies. Probably the best thing they ever recorded finishes the trio of great songs. "Radical Attitude" suffers from sketchy production but is strong enough to overcome it and the lyric "I'm the n*gger, white honky, Jew all rapped in one" is radical indeed. In our politically correct 21st century world such words have even more shock value than they did in 1981.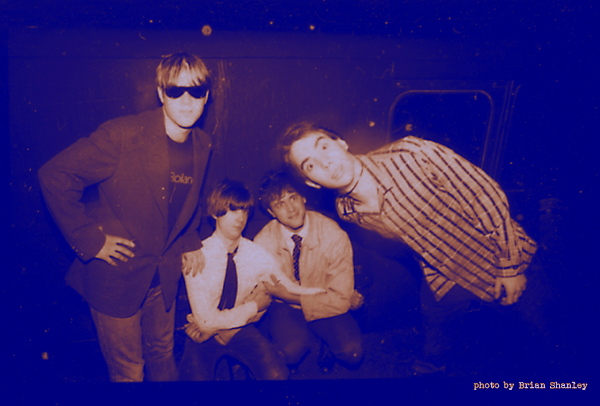 Some of the other material is solid in its own right. "High School Junkie" kind of reminds me of bands like The Pop, The Records and The Beat and that's never a bad thing. While others like "The Stare" and "Pull Your Socks Up" hardly stand the test of time. Then there are the throw away tracks like "Standing On The Corner" which should have never seen the light of day. The album ends with a live version of "Teenage Suicide" – no relation to the Unwritten Law song of the same name. It's a welcome addition as it serves as a document of a scene long gone and a band finding its way through it. In many ways Epicycle were just too ahead of their time. Their business model was a recipe for failure back then but is the template now for so many revenue starved bands at every level. They were DIY and lo-fi and Indie before there were such genres. Apparently founding members Ellis and Tom Clark have kept busy over the years, reforming the band in 1998. They have released three albums since (all on Circkle Records) and done some shows but the ship sailed from port about the same time Sub Pop moved to Washington state. The sound they helped create moved away from the Ramones meets the British Invasion mix they were cooking up and towards what became the Seattle sound. That was never Epicycle. What they were, however, is accurately portrayed here by our friends at HoZac.
Chicago has always gone a bit under the radar within the music world. This little anthology will do nothing to change that. But that doesn't mean it isn't both historically important and a hell of a lot of fun. It is.
Key Tracks: "Radical Attitude", "You're Not Gonna Get It", "High School Junkie"
Artists With Similar Fire: Cheap Trick / The Damned / Ramones

Epicycle Website
Epicycle Facebook
HoZac Records
-Reviewed by Scot Lade
Scot is a classically trained guitar player who has played in such legendary Florida bands as Disorderly Conduct, Foul Existense (sic) and, most recently, wedgepiece. He currently resides in Bellefontaine, Ohio.
Latest posts by Scot Lade (see all)
Please follow and like us: