Sunwolf


Angel Eyes EP
Dischord Records [2013]



Fire Note Says: Sunwolf invokes short, punchy fun with Angel Eyes.
Album Review: In the wake of Washington D.C.'s garage rock revival many have been answering the call to arms. The brainchild of Rob "Kalani" Tifford, Sunwolf mixes the lo-fi fuzz of raw, 60's L.A. rockers The Seeds with the brute force aggression of Sonic Youth. Produced by Jerry Busher of Fugazi fame, their six song, punchy second EP Angel Eyes functions as the fruit of this equation. Frontman Kalani, accompanied by drummer Danny Bentley and bassist Tom Bunnell steep fun, sun-soaked swagger with lustful undertones that don't reinvent the wheel, but make for an enjoyable hook-filled ride.
Angel Eyes is short enough not to elicit any dislike or distain—at least from this listener—and there are plenty of interesting high points during its scant six song, sixteen-minute run time. Opener and single "Push It" bounces the album into high gear with its sing-a-long lyrics "Oh, you got it baby/ Oh you got it good / Push it like you really should," which makes for sunny, fleeting fun right from the start. The sinister rumble of "Dr. Misery" does find itself offset by a bit of cheese—the lyrics "Ever feel the back of hand/ Do you like the taste of a backhand?" come off a tad awkward for me. But "Head Down"—my favorite track on the EP—has some powerful and dramatic moments that really make it a stand out; its simple bass, guitar, and drums instrumentation and equally simple lyrics ("Hey now with your head down baby yeah / What you gonna' say, oh,") easily lead the listener in.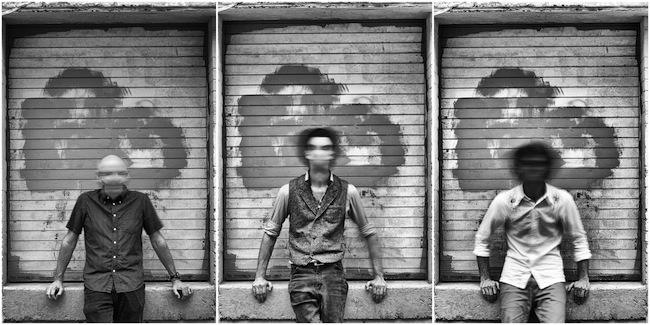 It's the latter half, though, where the EP really picks up steam and threw me for a power-charged loop. If it's not the hazy guitar streaks that get you going, then maybe the fist-pumping shouts will: "We're tired of your lies / We're tired of your gullible / We're coming for the crown / We're coming for your now;" its an all out assault on rule, logic, and reason. The title track draws things to a close with its catchy, stuttering garage guitars armed for attack and the reminder that angel eyes can drive the mind wild.
If your looking for pushed boundaries or out-of-the-box thinking, you might want to look elsewhere. The even keel of Sunwolf's Angel Eyes is meant to be as it's presented: a straightforward ass-kick riding on the good faith of garage punks. If that sounds even remotely interesting, then call "Dr. Misery" for a prescription of Sunwolf.
Key Tracks: "Push It," "Head Down," "Angel Eyes"
Artists With Similar Fire: Buzzcocks / T. Rex / Hooded Fang

Sunwolf Website
Sunwolf Facebook
Dischord Records
-Reviewed by Christopher Tahy

Along with TFN, Christopher Tahy writes for several music publications and has a modest (but growing) vinyl collection that spans genres and generations, while being a guitarist at heart. He enjoys the Dayton music scene and can never turn down a great rock riff!

Latest posts by Christopher Tahy (see all)
Please follow and like us: