James Younger


Feelin' American
Light Organ Records [2013]



Fire Note Says: James Younger's debut Feelin' American wears its influences on his sleeve.
Album Review: After reading an interview with Canadian James Younger these 11 breezy pop songs found on his solo debut could have had quite the spark. But, the adherence to past influences such as: Tom Petty; John Mellencamp; The Strokes; The Smiths; Allman Brother Band; The Cars; maybe at times even the Artic Monkeys; Nick Lowe; and Elvis Costello might become a little too apparent for the listener's taste. What I hear is finally crafted, friendly pop that is looking for a more nuance/soul to differentiate themselves from each other.
Now please don't single me out as a snob who needs the next best thing in music. Feelin' American has an idea of what cool is but the execution might be considered a bit flawed. The first track and debut single, "Monday Morning" scores nostalgia points with its Allman Brother-esque guitar harmonization and early Strokes-like flavor. But, beyond its bright guitar-pop and upbeat nature groove there's only so much to hold onto here. "Running Wild" scores points with loving-life grooves that could service a frenzied party of twenty-something's but what really caught my ear and create a memory was "Two of a Kind." The Mellencamp inspired melodic riff fires things up to good feelings and the song takes it from there adding Petty-like vocals along with harmonies and Cars based synths. "Here & Gone" and "Never Easy" are both familiar and add appealing swagger with their drums, vocals, and guitars. "Simple Things" keeps an upbeat demeanor as its guitar pours on the Petty like qualities. Feelin' American does go out on a catchy note, "What Comes After The Weekend" has a sort of bouncy world music vibe going on between drums and guitar which I really liked.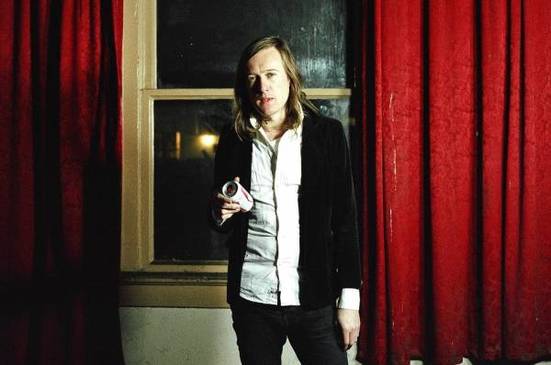 James Younger's Feelin' American is a fun album that's bright and upbeat. It wears its influences on its sleeve and carries its themes from start to finish. But, what seems to be the biggest strength, as well as its biggest weakness, is its squeaky-clean familiarity. If I didn't know who James Younger was I could accidentally lump him together with the dozens of other guitar poppers that populate the air-waves today. While some listeners seek that comfort, many of us are looking for something different than warm fuzzies and feel good guitar lines. If you feel the same way then you might consider looking somewhere else.
Key Tracks: "Monday Morning", "Two of a Kind", "Never Easy"
Artists With Similar Fire: Tom Petty / The Cars / John Mellencamp
James Younger Website
James Younger Facebook
Light Organ Records
-Reviewed by Christopher Tahy

Along with TFN, Christopher Tahy writes for several music publications and has a modest (but growing) vinyl collection that spans genres and generations, while being a guitarist at heart. He enjoys the Dayton music scene and can never turn down a great rock riff!

Latest posts by Christopher Tahy (see all)
Please follow and like us: