Jimmy Eat World


Damage
RCA Records [2013]



Fire Note Says: Jimmy Eat World stay consistent on seventh album Damage.
Album Review: Jimmy Eat World have had a good ride. The emo band has outlasted and outplayed many in the genre while maintaining a major label contract and carrying a solid fan base. This is even more impressive when you look at the class of 1996 when their debut Static Prevails hit the streets – Ammonia or Pure anyone? 17 years later and now on album number seven, Jimmy Eat World approach and execute Damage with much of the same spirit as their earlier material.
The good news is that fans should line up for their current style of whatever you call it these days – emo, power pop, alternative, rock. Whatever you decide to label it, Jimmy Eat World accomplish what they do best which is play emotional ballads like "Byebyelove", pull off catchy upbeat rockers in "How'd You Have Me", offer mid-tempo tracks with soaring choruses like on album opener "Appreciation" and a pleasant acoustic closer such as "You Were Good". All of these tracks are solid Jimmy Eat World songs. I think they have been in the business now long enough to earn their own sound and on Damage they bring it perfectly. That doesn't mean that they are all successful like the over emotional "Book Of Love" or the vanilla sounding "No, Never".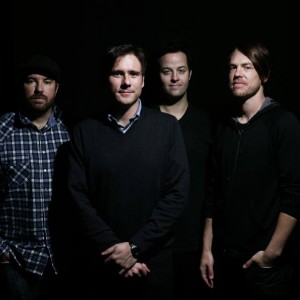 Damage was produced by Jimmy Eat World and Alain Johannes (Mark Lanegan, Chris Cornell) which seemed like a choice that I thought might give this record a bit rawer sound but that did not happen. Personally I would have liked to see more guitar strength here – remember how the title track "Bleed American" ripped apart the opening of that album? Damage still feels somewhat light to me. Sure 2001 was a while ago but it is not a crime today to make things a bit heavier in the mix. Overall, Damage is not a bad record and should go over well with longtime fans but at the end of the day, it probably won't have me going back much past finishing this review.
Key Tracks: "How'd You Have Me", "Damage", "I Will Steal You Back"
Artists With Similar Fire: Senses Fail / Fall Out Boy / The Promise Ring
Jimmy Eat World Website
Jimmy Eat World Facebook
RCA Records
-Reviewed by Christopher Anthony

After spending the early 90's managing a record store, the mid to late 90's producing alternative video shows and 00's blogging about the music scene Christopher Anthony is always ready to hear new music.

Latest posts by Christopher Anthony (see all)
Please follow and like us: