The Veils


Time Stays, We Go
Rough Trade Records [2013]



Fire Note Says: After a 4 year absence, The Veils return with yet another batch of elegant rock.
Album Review: The Veils specialize in moody, sweeping, cinematic rock, and Time Stays, We Go, shows the band still mining familiar territory and creating yet another record that yearns to be played in stadiums, yet for whatever reason, won't be. They seemed to have hit a certain plateau as a band, and haven't yet broken through to a wider audience, but it's not for a lack of trying. Singer Finn Andrews is not only a very good songwriter, but he has phenomenal pipes as well.
Nux Vomica will most likely be the album that is always viewed as the band's masterpiece, and rightfully so. That 2006 album demonstrated a big artistic leap forward for the band, it has huge sounding and energetic. While Time Stays, We Go retains the big sound of yore, it lacks the fire that made Nux Vomica burn so bright. That's not to say this is a bad album, it absolutely is not a bad album, but it just is lacking in energy. The songs and the playing are solid, as are the vocals, the record just never seems to find its footing and kick it into overdrive. It stays in the same gear for 40 minutes.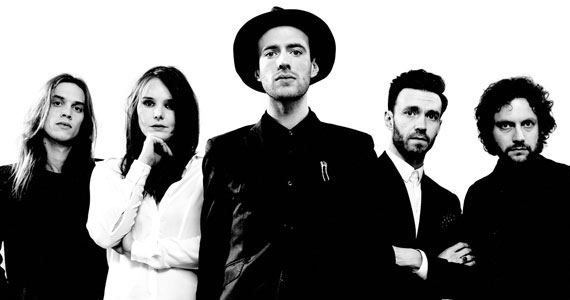 Highlights are numerous on the record, "Through The Deep, Dark Wood" starts things off with a bang, reminding me of britpoppers Travis and Idlewild at their most upbeat and dynamic. The song moves deftly through multiple tempo changes and build into a very pleasing sonic fury. "Candy Apple Red" reminds me of The Walkmen, and "Dancing with the Tornado" sounds like a Nick Cave deep cut. Both are satisfying tracks, yet leave me wondering just exactly The Veils what The Veils are trying to do.. They try on so many different personas; it is hard to find a unifying theme in their sound. Are they suave indie balladeers, a Britpop act, or an agitated group of grizzled veterans? Truth be told, they are all of the above, and are equally talented at all facets.
Time Stays, We Go is a flawed record, it has some pacing issues and some identity problems, I often wonder exactly who The Veils are when I listen to it, yet for all its flaws, it still retains a majestic beauty that makes up for it, and ultimately makes this a rewarding listen. Finn Andrews and the rest of The Veils are immensely talented, with just a bit more refinement; they show that they probably still are capable of a few more great records.
Key Tracks: "Through the Deep, Dark Woods", "Sign of Your Love", "The Pearl"
Artists With Similar Fire: Travis / The Walkmen / U2
The Veils Website
The Veils Facebook
Rough Trade Records
-Reviewed by Kevin Poindexter

Kevin has spent the past six years as a partner in an independent record label in addition to his duties at The Fire Note. Kevin prefers cd and digital to vinyl by a fairly wide margin and has begun the process of giving his vinyl away (not the valuable ones or the gbv related ones though so don't ask).

Latest posts by Kevin Poindexter (see all)
Please follow and like us: