Meat Puppets: Rat Farm [Album Review]

Meat Puppets


Rat Farm
Megaforce Records [2013]



Fire Note Says: The legendary Meat Puppets fourth post-reunion (and 14th overall) album is an unqualified winner.
Album Review: Drugs have always played a pivotal role in the music and the fate of Arizona cow punks the Meat Puppets. Although sung unintelligibly, 1982's hyperactive hardcore debut on SST said it all: "You see us at night by our glowing embers/This band's curse inflicts all its members." Even the mind-blowing makeover that was Meat Puppets II was firmly entrenched in the world of substance abuse despite its more approachable, country-tinged pallet. Addiction was indeed the curse that caused younger Kirkwood brother Cris to implode – breaking up the band and landing him in prison. His return to the fold in 2006 has now yielded four very good albums. So how does this one stack up? Quite well as a matter of fact.
Kirkwood the elder (Curt) has discussed this record as a no frills, back to basics affair. No more flirtations with prog. No more overstuffed arrangements. Just straight up Rock 'N Roll. Well, don't believe it. Every weirdo turn that makes the Puppets so engaging is still here. Once in the studio I doubt he could resist the tricky guitar solos and strange sound-effects found throughout Rat Farm. And although there is a strong undercurrent of the dreaded Classic Rock here, it has always served the Kirkwoods well. Hey, Nirvana is Classic Rock now, right? And sadly Meat Puppets will forever be remembered as that band that played a few of their own songs with Cobain and company on that MTV Unplugged thingy. That was in 1993. They followed it up with their bestselling album, Too High To Die, in 1994 and it even spawned the hit "Backwater." Two decades have passed since. Eternity.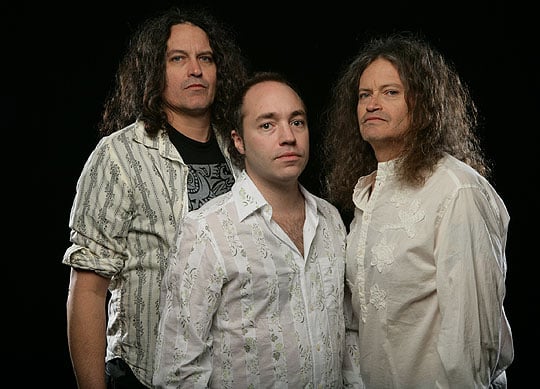 After one failed comeback in 2000 (that produced the underwhelming Golden Lies) without Cris, this reunion has not disappointed. Much like Rise To Your Knees, Sewn Together and Lollipop, Rat Farm is content to let the past be and focuses on individual songs but the hit to miss ratio is better this time. The title track starts things off with a reggae verse and the chorus: "Hallelujah, I'm rotten to the core/I take what I want, take a little more." "One More Drop" is a classic Puppets drug song with a Foghat boogie soul. "Down" continues the desert rocker mode while "Leave Your Head Alone" begins as a midtempo psychedelic jam which jarringly changes with its chirpy, happy refrain. There are so many surprises on the first four songs. All really great rock tunes. It's during the album's folk center that things almost derail. The Tex-Mex flavor of "Waiting" is followed by the Grateful Dead indebted "Time And Money," only to be met by the full-blown country of "Sometimes Blue." None of these are bad songs but they hurt the momentum built up early on. The final three songs are all major label era Puppets circa 1994 in a good way. "River Rose" is especially memorable and is a perfect example of how the Puppets combine various styles effortlessly.
The Kirkwood boys will never top the magic of Meat Puppets II or Up On The Sun and it may be a good thing that they are not trying to with Rat Farm. Overall it is slightly better than Sewn Together, making it their best post-reunion album. That also means it is their best since Too High To Die. For a band of ageing alt-rockers with a long and storied history, that's not too shabby. Not one bit.
Key Tracks: "One More Drop", "Down", "Leave Your Head Alone"
Artists With Similar Fire: Minutemen / Hüsker Dü / Butthole Surfers
Meat Puppets Website
Meat Puppets Facebook
Megaforce Records
-Reviewed by Scot Lade
Scot is a classically trained guitar player who has played in such legendary Florida bands as Disorderly Conduct, Foul Existense (sic) and, most recently, wedgepiece. He currently resides in Bellefontaine, Ohio.
Latest posts by Scot Lade (see all)
Please follow and like us: