The ACBs: Little Leaves [Album Review]

The ACBs


Little Leaves
High Dive Records [2013]



Fire Note Says: The ACBs shimmer and glimmer with a danceable straightforward indie pop record.
Album Review: It's interesting when a group like The ACBs puts out a sophomore album like Little Leaves as the Missouri's group consists of Konnor Ervin, Bryan McGuire, Andrew Connor, and Kyle Rausch. I call the album straightforward but let me clarify a bit more, it's straightforward to a point. About 3/4ths of this record sounds like it could host a sugar coated, sun drenched, sparkled smiled ear to ear synchronized water ballet. But, intermixed between the squeaky clean gleams are these interesting singer/songwriter ballads that strike an emotional chord. It's a juxtaposition that I feel goes over with mixed results. On the one hand it's a bold venture to break the energy of the more poppy tracks. On the other hand it seems to stifle the album as it does break the energy and adds some murk to this pristine poolside paradise.
Little Leaves isn't a difficult album to crack, it's the sunny sounds of 60's pop taken in a modern context. It adds vague elements of chill wave all while mixing in fantastic falsettos, easy breezy synths, some funk near the end and all benefit from the added value of power pop hooks. Although hearing "All Over" you may call me a liar. It's still sung with warmth, but this is a tender warmth you get from the likes of Elliott Smith. But as you will see a complete 360 blasts out of the speakers as "Surface" rushes through your ears. "Attic Fan" is a glossy sugar coated, Strokes structured, falsetto filled romp. "Ocean" comes through like an easy breezy, chill, island in the sun. The lucidity of vocal echo, shiny synth runs, and a beach combed guitars add an almost aquatic feel.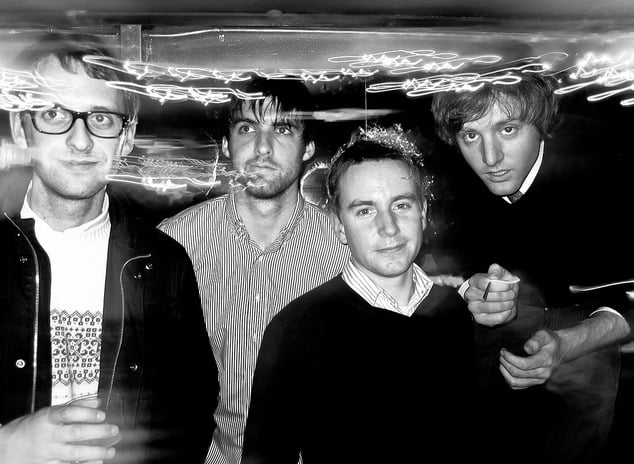 After keeping the energy going at a steady pace the sullen sounds of "Underweight" go for an emotional slap in the face. Delving into a darker territory, "Xanies" is a funky bass led encounter with Adderall and Xanax. Anxiety and addiction seem to be that theme as Ervin croons, "I'm about to walk/ through a crowded group of folks/and I forgot/how to smile." Little Leaves really seems to save the best for last. "Record Store" holds great vocal delivery, heavy pop hooks, fantastic sing alongs, and zooming synth leads throughout. That means if "Record Store" is one of the catchier tracks then, "Lover Yeah" is one of the sexiest. It's subtle but this track could easily be the skeleton of an Of Montreal song. Signature falsetto set to kill, a moving bass that nails it, and a floaty chord progression that fell right out of Studio 54.
The ACBs with their sophomore effort Little Leaves is a flawed but ultimately fun affair. While I do have to give credit for the bold beauty of the singer/songwriter tracks, they really just don't belong here. But with the soundscape that Little Leaves creates, you could do much worse for yourself.
Key Tracks: "Ocean", "Record Store", "Lover Yeah"
Artists With Similar Fire: The Color Bars / Beach Boys / The Sea And Cake
The ACBs Website
The ACBs Facebook
High Dive Records
-Reviewed by Christopher Tahy

Along with TFN, Christopher Tahy writes for several music publications and has a modest (but growing) vinyl collection that spans genres and generations, while being a guitarist at heart. He enjoys the Dayton music scene and can never turn down a great rock riff!

Latest posts by Christopher Tahy (see all)
Please follow and like us: