Tame Impala North American Tour [Concert Review]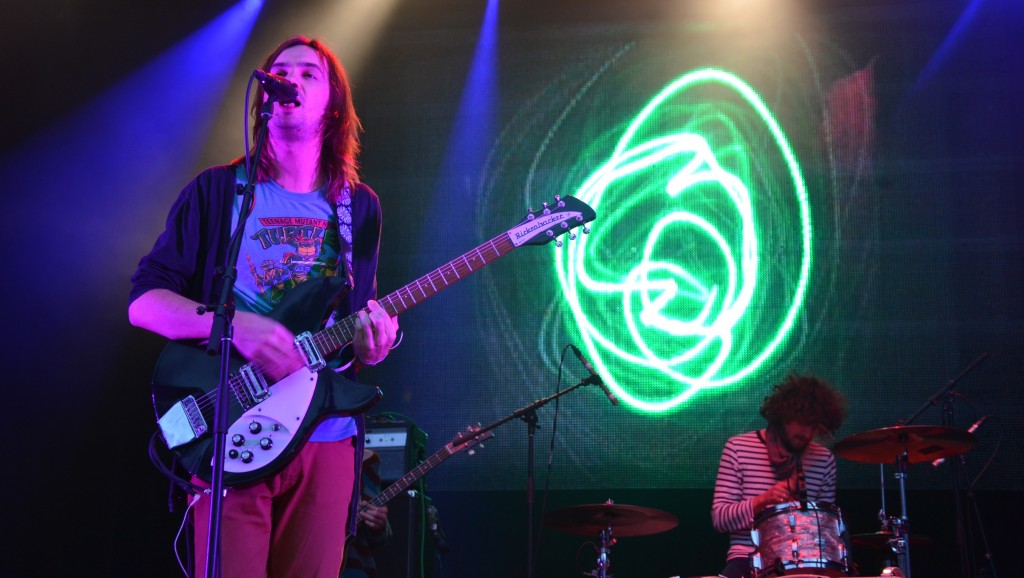 The Tame Impala North American tour with openers The Growl are the exact reason that we write. We caught the tour in Columbus on March 8th and these two bands exemplified our core values of what a show should be like almost to a T. The crowd, the venue, and the band where all there for each other making it a very excitable evening.
The Growl (not to be confused with The GROWLERS) by way of Perth, Australia kicked off the show and are embarking on their first North American tour. Playing some confident garage blues rock, these guys had something to prove especially opening up for the acclaimed Tame Impala. Duel drum kits lined the stage, a stand up string bass accompanied the group, and the noticeable swagger of front man Cameron Avery between finger snaps and hand claps. Interaction with the crowd was appreciated as we were thanked for being one of the best that they've played for yet – it was appreciated. The music was on par that had a vibe of a fuzzy blues band. It was the two drummers that put an interesting spin on The Growl. "Cleaver Leaver" shot forth with a Black Keys attack, and a Black Mountain fuzz thump. This track was a perfect showcase for the drumming rhythm dynamic; drum sticks bring it hard and heavy on the skins. But, the click-clack or sticks rebounding off the metal of the other kit was an impressive trick used for a good portion of the set. "3,6,9" was a staggered, sex charged hip shaker that inspired the audience to get down. Cameron took the solo spotlight and played a ditty about being the drunken fool at the family Christmas party (Avery joked about a crazy harmonica solo during the tune. But, it seemed he left it in the bus). It was, surprisingly, the end of the set that had me reeling and gave me the biggest feeling of excitement from a show in a long time. Avery, with harmonica in hand asked "Do you guys like blues music?" I had no idea what was in store until they launched into Son House's "John The Revelator." The audience was way into it, hand claps, harmonica, thundering drums, and all. It was the perfect way to cap off an opening set and made me excited to hear more out of these boys.


After the Growl amped us all up and left quite the impression; it was the moment that we'd all been waiting for. With grand aplomb, Interstellar Ausies' Tame Impala had taken the stage. With a fuzzy/explosive intro that sounded as if the mothership had landed; the familiar chorus drenched tones of Innerspeaker stunner, "Solitude is Bliss" leaped forth from the band. It's from that moment on they had us all under their spell (maybe it was the smoke floating around the room that helped a bit too). "Apocalypse Dreams", a Lonerism highlight as well as show highlight presented just as much grandiosity as heard on the album. Band interaction was a bit minimal but their psychedelic equalizer light show spitting out a garbled explosion of space, acid wash, and Technicolor fun tied the band dynamics together perfectly. "Elephant" stomped all over the crowd with an extended freak-out mid song; "Endors Toi" expanded the mind more than ever. The rarely played "Keep on Lying" made an exciting appearance. The boys also dug back to their debut, self-titled EP with "Half Full Glass of Wine". With thunderous applause the band came back for an encore; "Nothing That Has Happened So Far Has Been Anything That We Could Control" transcendent keys intro, fantastic back beat drums, and a My Bloody Valentine guitar wash sent the crowd into sensory overload.
This is going to be a hard tour to top. These bands complemented each other in the best way possible and Tame Impala showed that their live show totally backed the critical praise of their studio efforts. The North American Tour ends tonight but if you missed it make sure you put them on a list because you won't want to miss them again!
IF YOU HAVE THE CHANCE YOU MUST SEE TAME IMPALA LIVE!
-Feature by Christopher Tahy

Latest posts by Christopher Tahy (see all)