Frightened Rabbit: Pedestrian Verse [Album Review]

Frightened Rabbit


Pedestrian Verse
Canvasback/Atlantic Records [2013]



Fire Note Says: Pedestrian Verse is an honest, mature album that grows more immediate with every listen.
Album Review: On their fourth LP, Frightened Rabbit offers a set of songs that feel like the soundtrack to a late night in their home city of Glasgow. Drawing on the guitar- and piano-heavy modern indie sound of groups like Arcade Fire and The National, Pedestrian Verse suggests an urban aural landscape, with each song acting as a brief glimpse into the personal dramas of those you pass on your way through. Produced by the band with the help of frequent Brian Eno collaborator Leo Abrahams, the album is polished and atmospheric but still has enough of an edge, both sonically and emotionally, to be a compelling listen.
The first track, "Acts of Man," opens with a simple piano accompaniment that nicely compliments lead vocalist Scott Hutchison's falsetto delivery. Once the track reaches its first chorus ("Not here, not here / Heroic acts of man"), it slowly builds, adding drums, guitars and keyboards as Hutchison sings in his normal range, where his Scottish accent is much more pronounced. It's a great opening song that sets the tone for the rest of the album, and is followed up the organ-heavy "Backyard Skulls," and the fast-paced "Holy," a track that nicely demonstrates some of the lyrical grit of the album ("I don't mind being lonely / So leave me alone / You're acting all holy / Me, I'm just full of holes").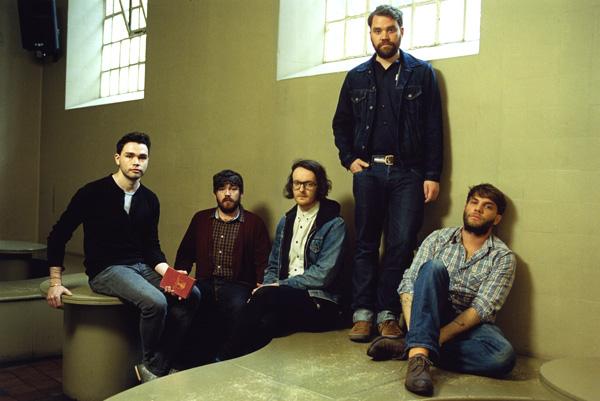 Doubt and distrust of religion seems to be one of the lyrical touchstones on Pedestrian Verse, with "Late March, Death March" expressing similar themes as "Holy," while "December's Traditions" seems to rebel against Scottish complacency, it's tight drum fills and guitar lines creating a sense of building tension behind Hutchison's lyrics. Abrahams' production work shines throughout, especially on "December's Traditions," where the track is imbued with a sparse, cold sound worthy of its title.
The album's second half seems to be more determined, if not exactly hopeful—the despair of the first half replaced by a stubborn "stiff upper lip" attitude. Sandwiched between the intro and outro of "Housing (In)" and "Housing (Out)" are "Dead Now," "State Hospital" and "Nitrous Gas," three tracks that demonstrate this determination to survive, their slightly more positive sound still not "happy" by any means, but more resolute. Both "Housings" are fairly upbeat, with chiming guitars on "In" and a more acoustic arrangement on "Out," both featuring similar sentimental lyrics ("You can't carry me away now / Please don't steal me from my house"). "Dead Now," despite its depressing title, is actually pretty catchy, with a groovy bass line right up front in the mix, backed up by a steady beat and hand claps. "State Hospital" tells the story of a girl growing up in a bad environment and the problems she faces, and "Nitrous Gas" has what is probably the most accessible sound on the album, with upfront guitar and loads of vocal harmonies. "Oil Slick" closes the second side nicely, both musically and lyrically, the acoustic and electric guitars weaving their sounds together behind proclamations that sum up the themes of Pedestrian Verse pretty well: "There is light but there's a tunnel to crawl through / There is love but its misery loves you / We've still got hope so I think we'll be fine / In these disastrous times, disastrous times."
Fans of literate indie rock with a little bit of bite to it will find much to love on Pedestrian Verse. It's a solid collection of songs, both musically and lyrically, and is one of those albums that seems to make more sense—and impact the listener that much more—with each subsequent listen.
Key Tracks: "Acts of Man", "December's Traditions", "Nitrous Gas"
Artists With Similar Fire: Arcade Fire / The National / Anberlin
Frightened Rabbit Website
Frightened Rabbit Facebook
Canvasback Music
Atlantic Records
-Reviewed by Simon Workman

Simon Workman has loved rock n' roll ever since his dad made him Beatles and Beach Boys mix tapes as a kid. These days his musical interests have a wide range, though he's still got a strong connection to the music of the 60s and 70s. He lives in Dayton and is currently working on a PhD in English literature at the University of Cincinnati. You can follow him on Twitter and Instagram @simonworkman.

Latest posts by Simon Workman (see all)
Please follow and like us: